Giving makes positive impact on community
8/20/2014, 8:53 p.m.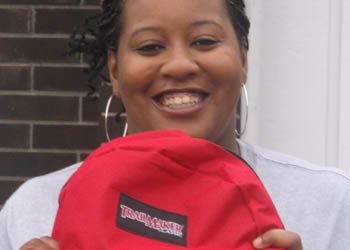 On August 16, gloomy weather and a little rain couldn't stop Touching Lives Soul Outreach and other local churches from distributing Back 2 School Backpacks to low-income families at 824 W. Jefferson Street, Joliet. The outdoor event was to give be involved in the community by giving. We were so graceful that we could help, said Holloway, Touching Lives Soul Outreach and organizer.
"Involvement within the community is so extremely important, and we must go back to where caring for others and our community becomes a priority, said Holloway, and more businesses should get involved within the community. We must continue to build relationships and encourage organizations and businesses participation within the community they service."
Touching Lives Soul Outreach is looking for more businesses and organizations to partnership in their efforts. We need computers, printers, school supplies, shoes and coats sizes 4 to 24 for young adults, if you can help call number below.
In conclusion, Touching Live Soul Outreach is also looking for a new home. If you possess a two flat vacant building within the Joliet area please give us a call at 779-279-1363.