Grilled Kielbasa, Caramelized Onion and Basil Pizzas
8/20/2014, 1:46 p.m.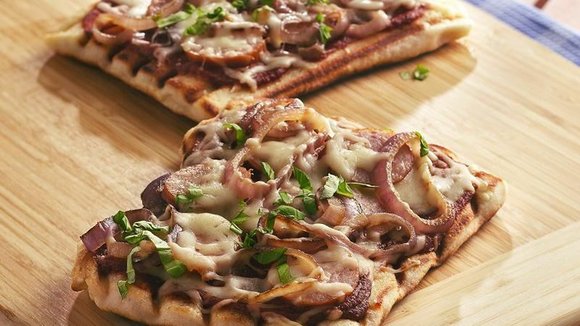 Ingredients
1 tablespoon olive or vegetable oil
1 small red onion, thinly sliced (about 3/4 cup)
Olive oil cooking spray
1 can (13.8 oz) refrigerated pizza crust
¾ cup pizza sauce 1
cup (about 4 oz) thinly sliced cooked kielbasa sausage (from 16-oz package)
1 cup shredded mozzarella cheese (4 oz)
½ cup fresh basil leaves
Directions

In 10-inch skillet, heat oil over medium heat. Add onion; cook 10 minutes, stirring occasionally. Reduce heat to medium-low; cook 5 to 10 minutes longer, stirring frequently, until onions are very tender and golden. Remove from heat; set aside.

Heat gas or charcoal grill for indirect cooking as directed by manufacturer. Spray 1 large cookie sheet with cooking spray. Unroll can of dough; cut rectangle of dough into 4 equal rectangles. Spray both sides of each rectangle with cooking spray; place on cookie sheet.

Place 2 or 3 dough rectangles at a time directly on grill rack on unheated side of two-burner gas grill or over drip pan on charcoal grill. (If using one-burner gas grill, cook over low heat.) Cover grill; cook 5 to 7 minutes or until edges of dough look dry (check occasionally to make sure bottoms of crusts are cooking evenly; rotate crusts if necessary). Cook about 2 minutes longer or until bottoms of crusts are golden and have grill marks. Using large pancake turner, remove crusts from grill to cookie sheet. Repeat with remaining dough rectangles.

Turn cooked crusts over so cooked sides are up; spread evenly with pizza sauce. Top each with sausage, onions and cheese.
Return pizzas to grill rack over indirect heat. Cover grill; cook about 5 minutes or until bottoms are golden brown and cheese is melted. Sprinkle basil over pizzas.