McBrody's Bar & Grill closed; no response from owners
Karen Sorensen | 8/22/2014, 2:18 p.m.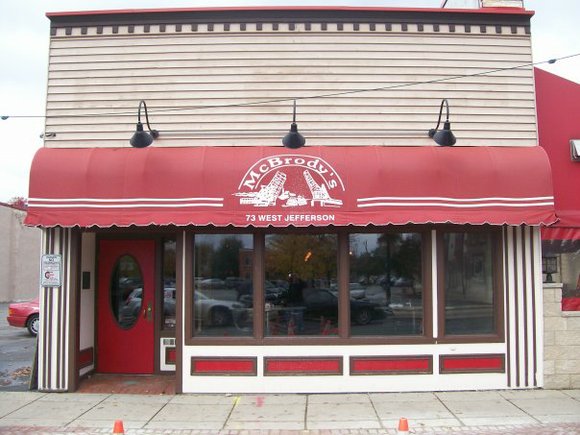 McBrody's Bar & Grill, a downtown business since 2002, has closed its doors amid what appears to be state liquor license problems, and it's not clear if reopening is in the cards.
Joliet Mayor Tom Giarrante said his office received a call from someone representing the business this week wanting to alert the city to the closure, and a check by the Joliet Police Department confirmed that information.
"They said they'd had enough," Giarrante said, before their cell phone call broke and further information could be obtained. They've been unable to reach owners Jim and Peg O'Connell since then, he said.
Messages left for the owners by The Times Weekly also have not been returned, and doors were locked when checked at about 1 p.m. Friday. While three men were inside the building, they would not answer the door. No information about the closure was posted.
McBrody's state liquor license is active, but an Illinois Liquor Control Commission employee in Chicago said a "hold" had been placed against the corporate owners, Triple M & B LLC, that will prevent them from renewing the license in November unless undisclosed problems are resolved. She could not elaborate on the nature of the hold.
The state has not been notified that the business had closed, she said.
The business is also on the Wine & Spirits Distributors of Illinois list for being delinquent in paying bills going back to February 2013.
McBrody's lost its state liquor license in January 2014 -- preventing O'Connell from serving alcohol for the entire month -- but it was reinstated in February.
At the time, O'Connell told another publication his business had been struggling because of the Jefferson Street Bridge closure, which made it hard for patrons to get to the restaurant/bar. Because most of his business comes from travelers on eastbound Jefferson Street -- a one-way street that prohibits westbound traffic -- people had trouble navigating their way his location, he said.
This is the second downtown Joliet business on Jefferson Street to close in the last month. The owners of the Red Goose Bakery and Cafe at the corner of Jefferson and Chicago streets blamed their demise on a lack of support from customers and city officials.
Contact Karen Sorensen at Karen@TheTimesWeekly.com.