Board to rule on Concerned Citizens referendum Thursday
Karen Sorensen | 8/27/2014, 4:35 p.m.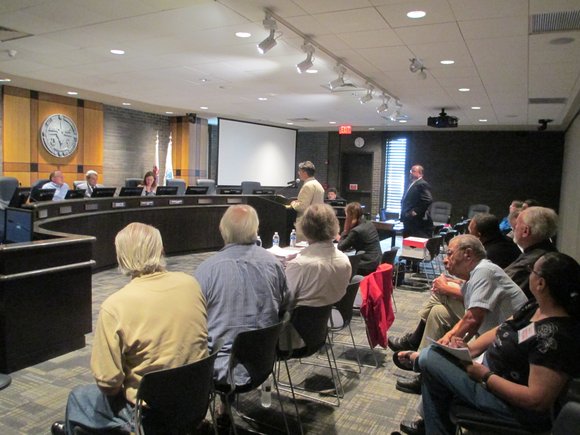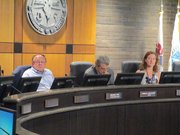 The Joliet Electoral Board will rule Thursday on whether the council redistricting referendum sought by Concerned Citizens of Joliet should be placed on the the Nov. 4 election ballot or rejected for lack of enough valid signatures.
Lawyers on both sides of the issue made their arguments in a five-hour hearing Wednesday, focusing on which set of statutes -- state municipal code or state election code -- should apply when determining the number of valid signatures required and on what defines a registered voter eligible to sign a referendum petition.
Beyond that is the scope of what should be considered: The original objection filed by Sarah Andreano, the additional signatures cited in her amended challenge filed a week after the deadline or all of the signatures found to be questionable or invalid following a five-day review of each the nearly 2,400 signatures on the petition.
Members of Concerned Citizens of Joliet, a grassroots organization that began gathering signatures for the referendum in March, believed they needed a minimum of 1,547 based on the advice of their lawyer, Ruth Greenwood, of the Chicago Lawyers' Committee for Civil Rights Under Law.
The number was derived from the Illinois Municipal Code, which states the number of signatures required is 10 percent of the voters who cast ballots in the 2011 Joliet mayoral election.
The only problem with that is the code addresses all forms of changing a home rule government except one: Going from a council made up of a mix of at-large and district representatives to one with just district representatives, which is what Concerned Citizens seeks to do.
Without a statute that specifically speaks to that change, the group should have used the Illinois State Election code provisions for adding referendums to election ballots, said Bryan Kopman, the attorney representing Andreano.
Under those rules, the group would have had to obtain a minimum of 2,684 signatures -- 8 percent of the Joliet vote in the 2010 gubernatorial election. They gathered only 2,392.
Also at issue is what constitutes a signature of a registered voter and how you define "registered voter."
Greenwood, who was joined at the Wednesday proceeding by attorney Jorge Sanchez, argued an address not matching election records did not automatically invalidate the signature because of the lag time involved in the Will County Clerk's Office changing records when someone's moved.
And anyone who turned up to vote at a polling place would be allowed to cast a ballot, even if they'd moved, by simply presenting a driver's license, Social Security card or utility bill, which makes the need to have an accurate address on file unnecessary, Greenwood said.
A review of each signature undertaken by Joliet Corporation Counsel Jeff Plyman, joined by Greenwood and Kopman or their representatives, found that 1,465 signatures gathered by Concerned Citizens were valid, 880 were invalid and 47 had problems that left them open to debate.
If the electoral board -- made up of Joliet Mayor Tom Giarrante, At-Large Councilman Mike Turk and Clerk Christa Desiderio -- agrees with those findings, Concerned Citizens will fall short of the number they need regardless of whether municipal or state election law is used.
The board is to review the evidence presented and will reconvene at noon Thursday to render their verdict.
Contact Karen Sorensen at Karen@TheTimesWeekly.com.