Plainfield mayor, administrator take ALS ice bucket challenge
8/27/2014, 10:10 p.m.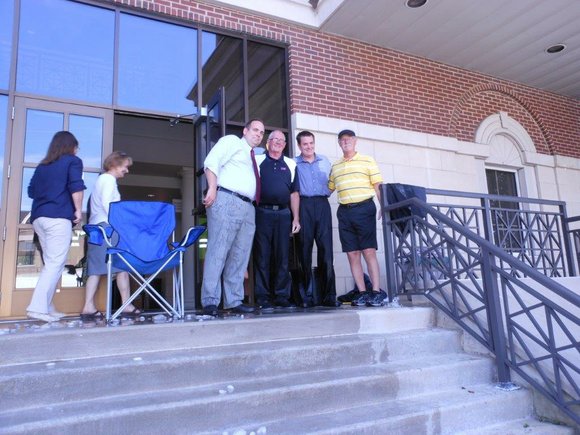 On his fifth anniversary with the village Wednesday, Plainfield Village Administrator Brian Murphy dusted off a 22-year-old suit he bought when he got his first government job. He donned the old garment to take the ALS Ice Bucket Challenge.
Murphy and Mayor Michael Collins stood on the steps of Plainfield Village Hall to have buckets of ice water dumped over their heads as part of the challenge, which has become a viral phenomenon the summer.
(To watch the video, click on the box at the bottom of the story.)
Participants who accept the challenge must post a video of themselves getting ice water dumped on them within 24 hours of being challenged or make a financial donation to the ALS Association (ALSA.org) or both. The challenge has been used to build awareness and raise funds for those suffering with amyotrophic lateral sclerosis, also known as Lou Gehrig's disease.
Murphy had been challenged by Plainfield Trustee Dan Rippy and Collins by Trustee Jim Racich, who both participated in the event.
"I thought it was fun and it's for a great charity," said Racich, who was nominated by one of his grandchildren to take the challenge.
Before taking the plunge, Collins challenged Roger Bonuchi, president of the Plainfield School District 202 board.
"I think it's a great cause," said Collins, who also donated to the cause.
Before getting his vintage suit soaked, Murphy challenged Director of Public Works Allen Persons, Police Chief John Konopek and former Plainfield Administrator Terry Burghard.
"Hopefully this will make a difference," Murphy said.