Council redistricting referendum won't be on November ballot
Karen Sorensen | 8/28/2014, 1:34 p.m.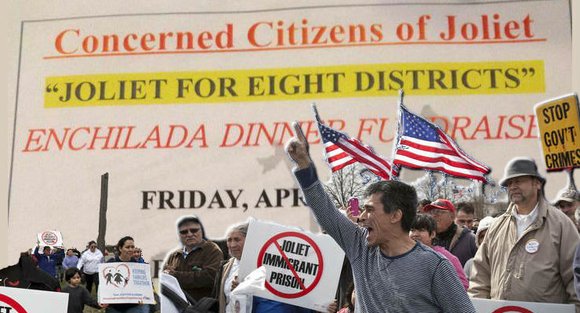 Concerned Citizens of Joliet does not have enough signatures to put its council redistricting referendum on the Nov. 4 election ballot, the Joliet Electoral Board ruled Thursday.
The three-member panel, made up of Joliet Mayor Tom Giarrante, At-Large Councilman Mike Turk and City Clerk Christa Desiderio, issued their decision based on evidence that showed the group did not follow the proper state law when determining how many signatures were needed and collected more than 690 signatures that were later deemed invalid invalid.
"I think it's been established through these hearings that we must follow the state election code and not the municipal code," Turk said.
"I believe the citizens of Joliet should be charged with making a decision on how the government is set up and how it would work best for them. ... But it has to go strictly by the law."
Representatives for Concerned Citizens said they found the decision unfair, disappointing and "protectionist," and a decision will be made soon as to whether they will appeal to the circuit court.
If an appeal is not filed, they said they will begin to immediately gather signatures to have the same referendum -- which seeks to replace the Joliet City Council's three at-large positions with three district seats -- placed on the April 2015 ballot.
"I think the people have been denied access to the Democratic process," said Rev. Craig Purchase, a member of Concerned Citizens and president of Joliet Rainbow Push, in response to the ruling.
"This is a really, really good plan. Anyone with any sense knows that every person in our city, whether black, brown, yellow, green, Asian, whatever, deserves representation. Right now, we have a lot of our city council members, as well as the people they appoint, living in one community, the Cathedral area."
Part of the frustration, Purchase said, was the group's inability to get a specific number of signatures needed from city or Will County officials.
State election code mandates the number be based on how many votes were cast by Joliet residents in the last gubernatorial election, but the county was unable to give them an actual number because so many precincts include both people from inside and outside of the city limits.
Since that number was not available, they thought it best to go with municipal law, which could provide a specific number based on the number of people who voted in the last Joliet mayoral election in 2011.
If the group does try again, it will use the numbers derived from the Joliet vote count in this year's gubernatorial election. The deadline to submit the new petition is Jan. 7.
However, the same problem will apply unless a way is set up to differentiate between voters who are Joliet residents and those who are not in order to determine an actual number of signatures needed, rather than an estimate.
That is something Concerned Citizens attorney Ruth Greenwood urged the council to request from Will and Kendall counties, since Joliet is in both.
"I fully agree," city clerk Desiderio said. "The state needs to know how difficult it is for municipalities to obtain this number."
Attorney Bryan Kopman, who represented referendum petition challenger Sarah Andreano, lauded the ruling.
"This was not an easy decision for the board," he said. "It is a political hot-button issue. I give them a lot of credit for having the courage and conviction to follow the law, and I think their decision is the right one."
Contact Karen Sorensen at Karen@TheTimesWeekly.com.