Guilty verdict provides 'relief' for McKee victims' families
Karen Sorensen | 8/29/2014, 1:59 p.m.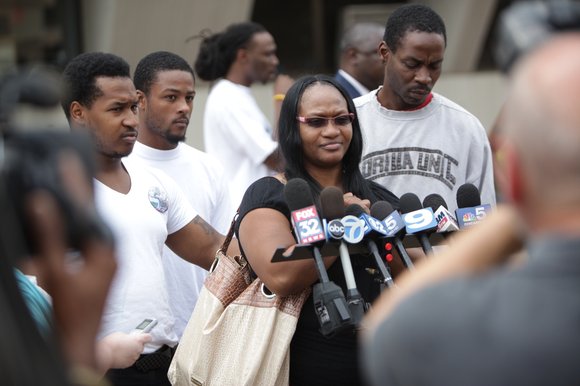 The families of the two Joliet men killed in the Hickory Street murders expressed relief and satisfaction at justice being achieved Friday in the conviction of Bethany McKee for their slayings.
"Will County got it right today," said Carla Kent, aunt of 22-year-old victim Eric Glover, eliciting applause and declarations of, "Yes!" from the crowd gathered outside the Will County Courthouse in downtown Joliet.
Glover's mother, Jamille Kent, was emotional but thankful for Will County Judge Gerald Kinney's verdict finding 20-year-old McKee guilty of killing her son and Terrance Rankins, also 22, in a robbery that escalated to murder through the actions of Shorewood resident McKee and those of three other suspects.
"It's a relief, but we're not done yet," said Jamille Kent, referring to the trials yet to be held for Joshua Miner and Adam Landerman. "All I have to say is, To God be the glory."
Glover's mother, Nicole Jones, also praised God in her comments on the ruling. She wasn't sure going into the hearing Friday that the news would be good, she said.
"I was worried. I couldn't sleep. I was freaking out," Jones said. "But God did his job. ... When you take one of God's (children), that's it. You can't take one of his kids and expect to get away with it."
Added Jones' son Drakkar Williams, who is also Rankins' brother: "It was just a relief that my mom and Terrance's mom get to go home and know that (McKee's) going to be behind bars for the rest of her life."
McKee will be sentenced on Oct. 16.
Carmelita Moore, who attended McKee's trial in support of her cousin, Nicole Jones, said she was pleased with the verdict, but also frustrated the murders were so senseless and could have been avoided had McKee done anything other than go along with actions of her friends.
Rankins had been McKee's high school friend, and it was at her instigation that he came to the house at 1121 N. Hickory St. on the night of Jan. 9, 2013. She made no attempt to alert the men, stop the burglary when it turned violent or seek help after the fact, Moore said, all points also raised by the judge.
"It's not a great day," she said. "This is something that could have been avoided. She could have texted him and said there were some people here. She (could have said, as she did to police), 'He's crazy, he's crazy, don't come.' ... She's the main reason we're here today."
McKee's family declined to comment, as did her attorneys, who remain under a judge-issued gag order not to discuss the case publicly.
Her parents' minister, the Rev. Greg Munyon of Stone Hill Baptist Church in Joliet, said he attended the sentencing to offer moral support to the family but chose not to speak with them in order to allow them their privacy.
"It's a disastrous situation for the McKee family and for the (victims') families," Munyon said. "It's heartbreaking.
"It's not the kind of thing you want in your world. ... The consequences are horrendous."
Contact Karen Sorensen at Karen@TheTimesWeekly.com.