Kam's Kapsules: Weekly Previews That Make Choosing a Film Fun
For movies opening December 4, 2014
12/2/2014, 12:23 p.m.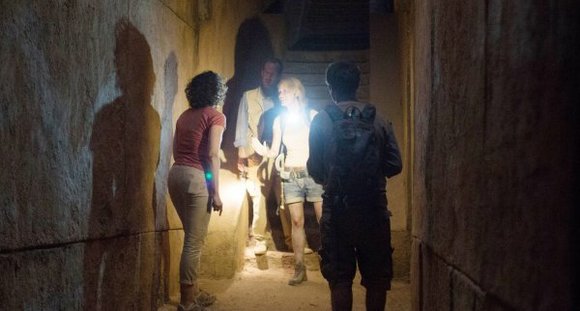 BIG BUDGET FILMS

The Pyramid (R for violence and gruesome images) Subterranean horror flick about a team of archaeologists who find themselves hunted by an evil creature after getting lost while exploring a labyrinth inside a lost pyramid discovered in Egypt beneath the Sahara Desert. Co-starring Garsha Arristos, Joseph Beddelem, Omar Benbrahim and James Buckley.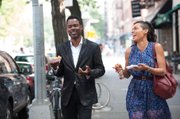 Top Five (R for sexuality, nudity, crude humor, pervasive profanity and drug use) Chris Rock wrote, directed and stars in this star vehicle about a standup comic trying to become a serious actor. With Gabrielle Union, Tracy Morgan and Rosario Dawson.


INDEPENDENT & FOREIGN FILMS
The Barefoot Artist (Unrated) Poignant portrait of 73 year-old Lily Yeh, the Chinese artist-turned-global humanitarian who, based on a belief that access to art is a fundamental human right, created a foundation which transformed abandoned lots and buildings into parks, gardens, theaters, studios and educational facilities for poor kids in Philadelphia, Rwanda, Kenya, Ecuador and elsewhere around the world.



By the Gun (R for sexuality, nudity, graphic violence, pervasive profanity and drug use) Mafia drama, set in Boston, about an ambitious mobster's (Ben Barnes) effort to become a made man. With Harvey Keitel, Toby Jones and Leighton Meester.

Comet (R for profanity, sexual references and drug use) Time-travel adventure set in a parallel universe and chronicling a star-crossed couple's (Emmy Rossum and Justin Long) tempestuous relationship. With Eric Winter, Lou Beatty, Jr. and Kayla Servi.
Concerning Violence (Unrated) Liberation retrospective, narrated by Lauryn Hill and inspired by Frantz Fanon's "Wretched of the Earth," recounting nine African nations' fights for freedom from European colonial rulers in the Sixties and Seventies. (In English, Swedish, French and Portuguese with subtitles)
Dying of the Light (R for profanity and violence) Revenge thriller about a CIA agent (Nicolas Cage) who goes rogue, rather than retiring as ordered, in order to track down the terrorist (Alexander Karim) who tortured him years earlier. With Anton Yelchin, Irene Jacob and Adetomiwa Edun.
The Foxy Merkins (Unrated) Unlikely-buddies comedy about a cash-strapped, asthmatic, lesbian, wannabe whore (Lisa Haas) who learns the ropes of the business from a straight, wealthy, seasoned streetwalker (Jackie Monahan) well-versed in picking up and satisfying women. With Frances Bodomo, Diane Ciesla and Claudia Cogan.

Lap Dance (Unrated) Greg Carter wrote and directed this semi-autobiographical drama about an aspiring actress (Ali Cobrin) who gets permission from her fiance (Robert Hoffman) to moonlight as a stripper to pay her cancer-stricken father's (James Remar) medical bills. Co-starring Stacey Dash, Mariel Hemingway, Carmen Electra and Nia Peeples.
Life Partners (R for profanity and sexuality) Romantic comedy revolving around a couple of BFFs, one gay (Leighton Meester), one straight (Gillian Jacobs), whose long-term friendship is tested when the latter starts dating a doctor (Adam Brody). Support cast includes Gabourey Sidibe, Abby Elliott, Greer Grammer and Kate McKinnon.

Night Will Fall (Unrated) Holocaust documentary culled from recent found-footage shot in 1945 by Alfred Hitchcock and Sidney Bernstein in liberated concentration camps in Germany.
Pioneer (R for profanity) Fact-based political thriller, set in the Seventies, about a grieving diver's (Aksel Hennie) attempt to expose a corporate and government conspiracy to cover up the truth about how his brother (Andre Eriksen) died during the installation of a gas pipeline in the North Sea. With Wes Bentley, Stephanie Sigman and Jonathan LaPaglia. (In Norwegian and English with subtitles)