Wine of the Week-Robert Mondavi winery Carneros Napa Valley Pinot Noir - $26
12/3/2014, 1:18 p.m.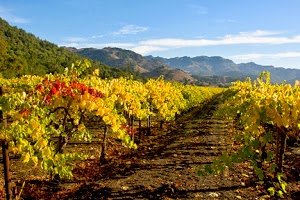 Robert Mondavi Pinot 2012 Pinot Noir from the Napa Valley's unique Carneros Region is absolutely perfect for the Holiday dinner table. Rich in bright berry fruit flavors, brown sugar and baking spices, like cinnamon and nutmeg, so typical in many recipes of the season, its the perfect accompaniment to the turkey, dressing, cranberry sauce, spiced sweet potatoes and pumpkin pie that are such typical Holiday fare, The fact that its priced at just $26 (many stores are now discounting it for $20), its a tremendous value that gives a touch of elegance to the whole affair without breaking the budget.
Carneros is a rather unique and treasured region for growing wine grapes. Located on the southern edge of both Napa and Sonoma Valleys, the Carneros growing district straddles both regions and is a ready resource of some of the best wine grapes anywhere. The climate there is perfectly situated for producing luscious, flavorful wine grapes. Located just north of San Pablo Bay, it has the benefit of cool ocean breezes, contrasted by warm summer days, tempered by marine winds at fog during the night and early morning. This ideal balance of wind, fog and sun creates a natural incubator for creating some the most flavor-laden grapes ever. There are vineyards in the Carneros that are the source of some of the greatest Napa Valley and Sonoma Valley wines in existence. Happily, Robery Mondavi has sourced grapes from this treasure trove to create a delightful wine that is both delicious and affordable. I recommend a case, especially if you can find it on special. I guarantee you it will vanish before the Holidays are over!
Carneros District vineyards during the fall harvest-photo by Dwight Casimere