Drop off old holiday lights at county recycling sites
12/7/2014, 8:50 p.m.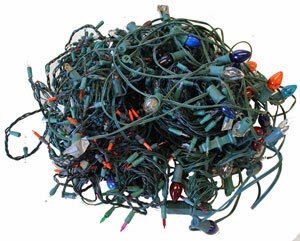 Will County provided this news release:
Four Will County offices are joining the County's 14 permanent electronic recycling drop-off sites to give residents opportunities to dispose of unwanted, burned out, or horribly twisted string holiday lights.
Holiday lights may be dropped off in the lobbies of the County Office Building, 302 N Chicago St., Sunny Hill Nursing Home, 421 Doris Ave., Land Use, at 58 E Clinton, and the Emco building, 57 N. Ottawa St., until Feb. 1.
"In the spirit of the season, let's give the Earth we depend upon a gift by recycling. String lights are one of hundreds of items we can keep out of our landfills while preserving our natural resources," said Will County Executive Larry Walsh.
Marta Keane, Recycling Program Specialist with the Will County Land Use Department's Resource Recovery and Energy Division, encouraged residents to incorporate green activities into their lives this holiday season.
"Making reuse and recycling part of holiday celebrations can be fun, and using our drop-offs is a great family activity. Reusing gift bags and recycling saves energy and even prevents water pollution.
"We remind everyone to recycle wrapping paper, boxes, envelopes and various containers that are generated at this time of the year," said Keane. "For anyone without curbside recycling service or simply with too much material to wait, consider using one of our six traditional recycling drop-off sites."
Permanent residential recycling sites, which accept more than 60 electronic and electrical items, are at the following offices: Village of Bolingbrook, 299 Canterbury Lane, Bolingbrook; Channahon Township, 25461 S. Fryer St., Channahon; Godley Park District, 500 S. Kankakee, Godley; Village of Homer Glen/Homer Township, 14400 W. 151st St., Homer Glen; Forest Preserve District of Will County office, 17540 W. Laraway Road, Joliet; City of Lockport, 17112 Prime Blvd., Lockport;
Also Manhattan Township, 24645 S. Eastern Ave, Manhattan; Village of Mokena, 19004 Wolf Road, Mokena; Monee Reservoir, 27341 Ridgeland Ave, Monee; New Lenox Township, 1100 S. Cedar Road, New Lenox; Vintage Tech Recyclers, 14110 Illinois Route 59, Plainfield, Village of Romeoville, 195 S. Budler Road, Romeoville; Washington Township/Village of Beecher, 30200 Town Center Road, Beecher; and Troy Township Highway Department, 25358 Seil Road, Shorewood.
Channahon Township, City of Lockport, Godley Park District, New Lenox Township, Troy Township Highway Department and Washington Township/Village of Beecher also are traditional recycling locations.

Hours vary by site. For additional information about electronic recycling, hours of operation and Will County Land Use -RRE, go to www.willcountygreen.com. Information about items which are banned from landfills and information about the County's front-door service options is also found there.
The Land Use Department is under the County Executive's office and is led by Director Curt Paddock.