Health department encourages residents to get flu shot
12/7/2014, 10:23 p.m.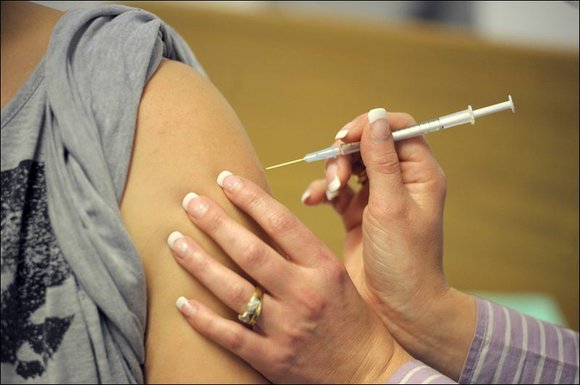 The Will County Health Department issued this news release:
To reduce the risk of illness, the Will County Health Department is teaming with other health departments and healthcare organizations across the state to encourage residents to get a flu shot during Vaccinate Illinois Week, December 7-13.
Vaccinate Illinois Week is a statewide observance focused on educating the public about the importance of flu vaccination during the fall and winter months. Influenza is a potentially serious viral disease that can lead to hospitalization and death. An annual flu shot is the best way to protect yourself against viruses that kill from 3,000 to 49,000 Americans each year.
The National Centers for Disease Control and Prevention (CDC), recommend that everyone six months and older receive a flu shot. The vaccine is especially important for pregnant women, young children, people 65 years or older, and people with asthma, diabetes, or a weakened immune system. An annual shot is necessary because flu viruses are constantly changing.
Several flu vaccine options are available for the 2014-2015 flu season, including traditional trivalent formulations designed to provide protection against what are expected to be the three most prevalent viruses during 2014-2015. Newer options include a vaccine providing protection against four virus strains (quadrivalent vaccine), and a formulation for people 18 years and older with egg allergies. Influenza is spread through coughing and sneezing. Flu viruses can also spread when people touch surfaces or objects that have been contaminated with virus particles.
Frequent hand washing helps you to avoid most viruses and bacteria. An alcohol-based hand rub will do if soap and warm water are unavailable. Practice good cough etiquette. Use a tissue to absorb coughs and sneezes. If tissue is unavailable, use the inside of your elbow. If you must cough into your hands, wash as soon as possible and avoid touching your face, nose or eyes.
When possible, avoid contact with sick people. If you are experiencing flu-like symptoms, stay home at least 24 hours once your fever has gone. Pneumonia is a common and potentially dangerous flu complication. Seniors, young children, pregnant women and people with compromised immunity are at the greatest risk for flu complications.
Influenza symptoms typically include: fever, cough, sore throat, runny nose, congestion, headache, chills and fatigue. Consult your doctor if symptoms persist beyond 48 hours.
Flu shots are available at multiple Will County sites, including doctor's offices and pharmacies. Vaccine is also available at the Will County Health Department complex in Joliet and at branch office facilities in Bolingbrook and University Park. For information about Health Department immunization services, telephone 815-740-8143. The Will County Community Health Center (1106 Neal Avenue in Joliet), also offers flu shots. Call 815-727-8670 for more information.
For the latest Will County Health Department news and public health information, please follow us on Twitter @WillCoHealth and become a fan on Facebook.