Get the holiday spirit by checking out these local events
12/8/2014, 9 p.m.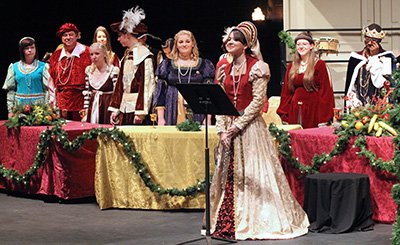 No shortage of holiday-related events in our area, including these:
Something Olde, Something Yule
The Joliet Junior College Fine Arts Department will present the 37th annual public MadriGala concert, "Something Olde, Something Yule" at 7:30 p.m. Friday in the Fine Arts Theatre on the Main Campus, 1215 Houbolt Road in Joliet.
The event will feature merry madrigals and carols, pageantry, dance and humor performed by the JJC Chamber Singers, JJC Brass Quintet, and JJC Jesters. The JJC Chamber Singers, the college's auditioned choral ensemble, will also perform.
During intermission, hors d'oeuvres and desserts will be served on the Bridge, prepared by JJC culinary arts students.
Tickets are $12 per person and must be purchased in advance by calling 815-280-2200 by Wednesday. Seating is limited and will be assigned.
Santa and Rudolph at Inwood Golf Course
Kris Kringle and his favorite reindeer will be at Inwood Golf Course from 4 to 7 p.m. Dec. 13 and 14 and Dec. 20 and 21.
There will also be coloring contests, things to make at Cathy's Craft Corner, free suckers from the Holiday Tree and holiday movies. The golf course is located at 3200 W. Jefferson, Joliet.
Stories with Santa at the library
Santa's helpers will read seasonal stories from 6:30 to 8 p.m. Dec. 16 and 10 to 11:30 a.m. Dec. 17 at the Joliet Public Library's Black Road branch, 3395 Black Road.
Children will have a chance to meet Santa and spend time doing activities with their families. This event is co-sponsored by the Will County Reading Council.
Bolingbrook Culver's toy drive
Culver's of Bolingbrook, 250 N. Bolingbrook Drive, has partnered with Adventist Bolingbrook Hospital to collect new, unwrapped toys for all ages.
A special family holiday fun night from 5 to 8 p.m. Tuesday. Free kids meals will be offered to any child under 12 who brings in a gift. Santa will make a special visit along with Scoopie, and kids can make holiday ornaments at the craft table. The Culver's raffle wheel will give guests an opportunity to win prizes with a suggested spin donation; all proceeds will go toward buying more toys.
All donations will be personally delivered by team members and mascot Scoopie in late December.
For more information, call 630-783-1585.
Mixology & Merriment
The Will-Grundy Medical Clinic and Joliet Area Young Professionals are holding a fundraiser holiday party from 6 to 10 p.m. Dec. 12 at Tin Roof restaurant, 158 N. Chicago St., Joliet.
Tickets are $25 and include a signature cocktail, hors d'oeuvres, a mixology demonstration, 50/50 raffle and cash bar.
To buy tickets, go to http://willgrundymedicalclinic.org/fundraising/holiday-party/. For more information, send email to khaller@wgmedclinic.org.
'Jack Frost' at the Plainfield library
The movie "Jack Frost," starring Michael Keaton, will be shown for free at 1 p.m. Dec. 18 at the Plainfield Public Library, 15025 S. Illinois St.
The movie is described as a "special-effects-heavy Christmas film about a boy who discovers, after his father dies in a car accident, that his dad is still alive in the form of a snowman."
Refreshments will be served.
Go to http://www.plainfieldpubliclibrary.org/ to register.