Donation boxes now need permits in Joliet
12/9/2014, 2:07 p.m.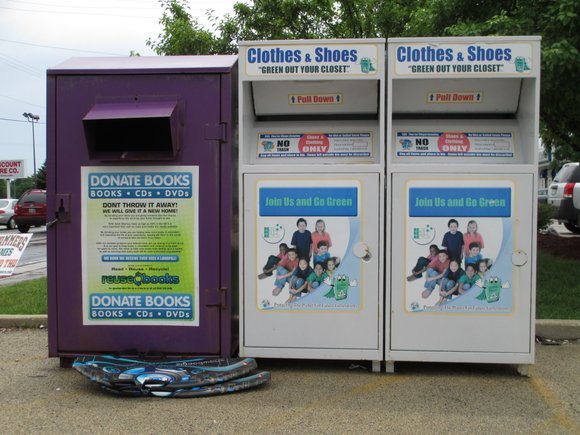 The city of Joliet issued this news release:
In recent years, Joliet has experienced an influx of unattended collection boxes located primarily on commercial sites in the City. Collection boxes are not a permitted use and are not a recognized accessory structure in Joliet, yet the number of unattended boxes has grown.
Collection boxes have been located in designated parking spaces and placed in areas which blocked traffic visibility. Further, the proliferation of collection boxes creates an unsightly appearance in our commercial areas.
The Joliet City Council approved a new ordinance to address these concerns. With the adoption of the new, unattended collection box ordinance, Joliet joins a growing number of communities who are taking positive steps to regulate collection boxes.
Important features of the ordinance include the following:
• Maximum box size is 4 ft. x 5 ft. x 6.5 ft. tall
• Box must display box operator information
• Spacing requirements apply to box locations
• Box permit may not be transferred
• First year fee is $250.00; each following year, the fee is $50.00
• Box must be constructed of metal or resin material
• Box must be maintained and free of debris
Under the new regulations all existing boxes are required to be removed by the end of the year. Permits to place a new collection box should be applied for by the end of the year. The ordinance provides for a "grace period" which expires January 1, 2015. Beginning in 2015, all non-permitted collection boxes will be subject to enforcement provisions.
The City is contacting property owners and making every effort to contact box operators to inform them of box regulations and the permit process.
The new collection box ordinance will help promote the attractive appearance of our commercial areas. The cooperation of collection box owners is appreciated. If you have questions or wish to obtain a permit application for an unattended collection box, please contact the Zoning Code Enforcement Office at 815-724-4128.