Joliet Grade Schools Welcomed New Principals For A Day
12/10/2014, 7:28 p.m.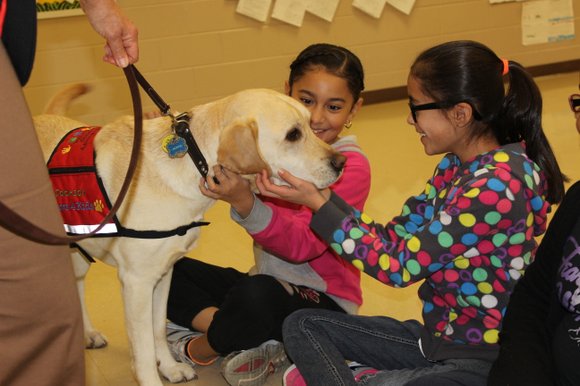 Joliet Grade Schools recently welcomed community and business members into their schools for their Eleventh Annual Principal for a Day Celebration. "Principals" included:

M.J. Cunningham Elementary: Representative Larry Walsh, Jr., Illinois House of Representatives; Dirksen Junior High: Brian Stanley, Joliet Herald News; Eisenhower Academy: Lt. Andrew Dowd, U.S. Army Reserves; Farragut Elementary: Alicia Joebgen, Girl Scouts of Greater Chicago and Northwest Indiana;
Forest Park Individual Education School: Bettye Gavin, Forest Park Community Center; Gompers Junior High: Shawn West, Will Grundy Medical Clinic; Hufford Junior High: James Glasgow, Will County State's Attorney; Thomas Jefferson Elementary: Steve Hines, Westbend Mutual Insurance Company;
Edna Keith Elementary: Captain Ruth Sellen, The Salvation Army; A.O. Marshall Elementary: Delfina Lopez, Will County Regional Office of Education; Marycrest Early Childhood Center: Robin Willis, First Midwest Bank; Pershing Elementary: Mayor Tom Giarrante, City of Joliet; Sator Sanchez Elementary: Elizabeth Nevarez, Spanish Community Center; Carl Sandburg Elementary: Representative Natalie Manley, Illinois House of Representatives; Isaac Singleton Elementary: Rolanda Mitchell, Mitchell Law Group; Taft Elementary: Dominic Egizio, Joliet Park District; Lynne Thigpen Elementary: "Jackson" Therapy Dog and Cheri Johnson, Will County Children's Advocacy Center; Thompson Center: Darrin Myers, R.T.S. Services Unlimited; Washington Junior High: Captain Les O'Connor Jr., Joliet Police Department; and Woodland Elementary: Barbara Collins, Morningstar Mission. Caption: Lynne Thigpen Honorary Principal "Jackson" takes time to meet fifth grade students Scarlett Chavez and Iris Cazares.