Trost Reaches 300th Win
12/10/2014, 7:49 p.m.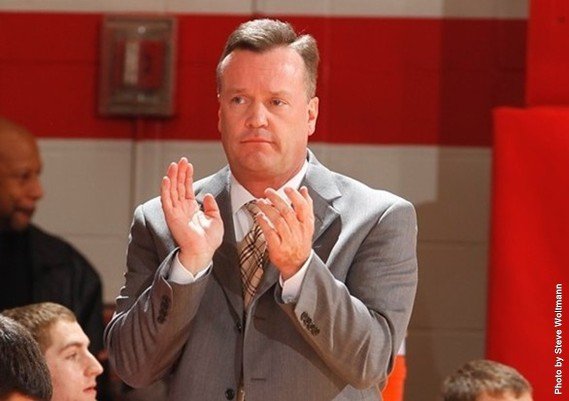 The Lewis University men's basketball team scored a season-high in points, shot 64.3% from three-point land, had six players score in double-figures and saw head coach Scott Trost win his 300th career game, as the host Flyers earned the 96-76 regional victory over Cedarville at Neil Carey Arena on Saturday afternoon.
Lewis freshman guard Max Strus paced the Flyers attack with 24 points on 6-for-10 shooting and hit all four of his three-point attempts. The Hickory Hills native was also 8-for-9 from the charity stripe and picked up three assists, three steals and two blocks in the win.
Flyer senior guard Ryan Jackson (Bolingbrook, Ill./Riverside-Brookfield) had 13 points and a game-high seven rebounds, followed by 12 points apiece from both senior guard Jeff Jarosz and junior forward Kyle Nelson. Lewis sophomore guard Capel Henshaw (hit all three of his long range attempts to finish with 11 points, while senior forward Julian Lewis had 10 points.
"I thought we came out with good energy and Max (Strus) got us off to a great start," Trost said. "We hit some shots, played well defensively, handled their pressure and didn't turn the ball over. I thought we did a lot of really good things in the first half. Any time you get a 20-point win against a team the caliber of Cedarville, you feel very fortunate."
With the win, Lewis improves to 6-1 on the campaign, while the visiting Yellow Jackets are now 2-7. The 96 points is the most scored by a Flyer team since they beat Saint Joseph's 96-77 on February 23, 2013. They knocked down a season-best 83.3% (25-for-30) of their free throw attempts. Lewis was also solid defensively, as they scored 33 points off of 17 Cedarville turnovers.
As a team, Lewis shot 54.4% (31-for-57) from the field, marking the fifth time this season that the Flyers have made at least half of their shots. They were equally as effective from long range, as they drained 64.3% (9-for-14) of their three-point shots, including an 8-for-11 performance in the first half. Cedarville senior guard Marcus Reineke came off the bench to score a game-high 32 points on 11-for-18 shooting and 5-for-11 from beyond the arc. The Yellow Jackets also received 12 points and three trifectas from sophomore guard J.C. Faubion.
Lewis returns to action on Wednesday, December 17th, as the Flyers welcome Northwood for a regional showdown at 7 PM.