McFarland angered Rialto won't discuss marquee with council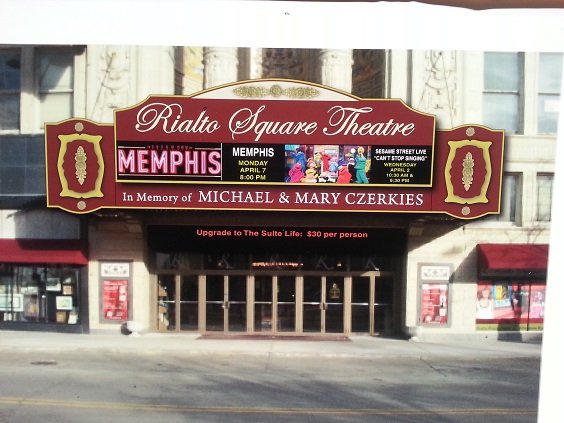 Rialto Square Theatre officials rejected a request Thursday by the city of Joliet to address the city council on the controversial new marquee for the downtown venue, angering Councilman Jim McFarland.
The invitation was proffered by Councilman Bob O'Dekirk, who serves as the city liaison to the Will County Metropolitan Exposition and Auditorium Authority, the board that oversees the nonprofit theater.
"I believe the public has a right to hear the reasoning behind the choices made on this historic landmark, especially since it is supported in part by Joliet taxpayers," said McFarland, noting that the city contributes $600,000 annually to the theater's operation.
The Rialto unveiled the new marquee in late November, and plans to have it installed by spring. It's being funded with a $350,000 donation from Plainfield construction company owner Ed Czerkies in memory of his parents.
However, it was approved by the Joliet Historic Preservation Commission and the city's Zoning Board of Appeals in September. Local resident Candace Johnson has asked the Illinois Attorney General's Office to review the commission meeting, alleging the city violated the state's Open Meetings Act by not properly notifying the public that a hearing on the sign was being held.
Beyond that, many residents have expressed a dislike for the sign itself, criticizing it for being too flamboyant and not fitting with the theater's historic architecture.
A public rally is being organized for 1:30 p.m. Sunday outside the theater to protest the sign.
"A group of like-minded Joliet citizens and citizens from surrounding areas will be protesting against the new proposed marquee," the rally announcement said. The group is also "asking for Mr. Randy Green to step down from his management position at the Rialto."
Green could not be reached for comment Thursday, but Mayor Tom Giarrante said he did not fault Green or Jim Smith, chairman of the Metropolitan Exposition and Auditorium Authority, from declining the city's invitation to appear before the council.
"They went through the proper process," Giarrante said. "The Historic Preservation Commission and the ZBA both said (the sign) was fine."
The mayor said the Rialto was planning to have an open meeting for the public on Wednesday so residents could offer their opinions. No other details of that gathering have been released.
Giarrante said he fears that the controversy over the sign could prompt Czerkies to withdraw his money, leaving the Rialto without funding for the marquee.
Meanwhile, McFarland said he still hopes for a council meeting with Rialto administrators.
"I am ... calling on Rialto Square Theater management and its governing board to appear at a televised public forum to address legitimate citizen concerns about the proposed marquee replacement," he said.
Contact Karen Sorensen at Karen@TheTimesWeekly.com.