Health Department urges health insurance enrollment now
12/16/2014, 10:03 p.m.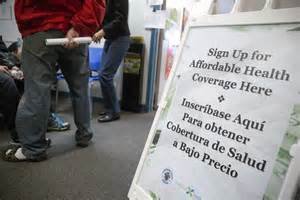 If you want health insurance coverage early in the New Year, the Will County Health Department urges you to enroll now. The Health Department has a pool of Department of Insurance licensed Navigators available to help you and your family apply for health coverage. You can apply for Illinois Marketplace or Medicaid coverage, and Navigators are available at six county locations on a regularly scheduled basis.
Time is already running short. Open enrollment for 2015 began November 15, and will end February 15, 2015. There is no additional enrollment planned for 2015, and Health Department In-Person Counselor Program Manager Cindy Jackson knows the pace of enrollments will accelerate dramatically as the 2015 deadline approaches.
"Experience tells us there will be a rush to sign up as the enrollment deadline draws near," she said. "Nearly 90 percent of our enrollments a year ago came during the last half of the enrollment period, and 40 percent of those enrollments occurred in the final four weeks. We want people to receive their coverage as soon as possible, and the best way to accomplish that goal is to encourage everyone to avoid the late rush."
Appointments and walk-ins are welcome from 8 a.m.-4:30 p.m. at the main Health Department complex in Joliet (501 Ella Avenue). Agency branch offices in Bolingbrook (323 Quadrangle), and University Park (44 Towncenter), see clients by appointment only. Appointments are available in Bolingbrook from 8:30 a.m.-4:30 p.m. each Monday and Friday. University Park appointments are available from 8 a.m.-4 p.m. every Tuesday. Three additional Joliet locations are also available for your convenience. Navigators are available from 8:30 a.m.-4:30 p.m. every Wednesday on the 1st Floor of the Will County Office Building (302 N. Chicago). The office is located next to the Will County Clerk's Office.
You may also visit Provena Saint Joseph Medical Center (333 N. Madison), and Catholic Charities Daybreak Center (611 E. Cass). Walk-ins and appointments are welcome from 9 a.m.-4 p.m. every Friday at Provena Saint Joseph. The office is located next to the Medical Center Cashier's Office. The Daybreak Center location is available from 11 a.m.-1 p.m. most Thursdays.
To schedule an appointment at any location, please telephone 815-727-5990. Please bring the following when you come to enroll: 1. Driver's license or State ID. 2. Birth Certificate or Permanent Resident Card. 3. Social Security Card. 4. Income and employer information (last 30 days pay stubs for all individuals working).
For the latest Will County Health Department news and public health information, please follow us on Twitter @WillCoHealth and become a fan on Facebook.