"Scrooge You!" The perfect tonic for Holiday Blues
12/16/2014, 9:47 p.m.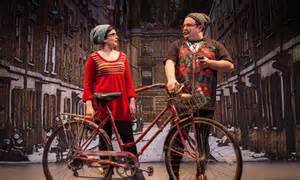 What do Superman, celebrity chef Rick Bayless and Little Orphan Annie have in common? If you're lucky enough to snag a ticket to The Second City's production of "Twist Your Dickens, Or Scrooge You!" Presented by Goodman Theatre in the intimate confines of the Owen Theatre, you'll have a riotous time finding out why. Due to high ticket demand, Goodman Theatre extends "Twist Your Dickens" through Jan 3. A special bar package is included for New Year's Eve.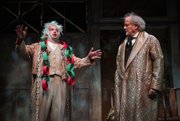 Starring Second City veteran Francis Guinan as Scrooge with Brian Boland taking over the role starting December 26, Frank Caeti whizzes in on a skateboard as the Ghost of Christmas Past, full of campy '80s references, and Peter Gwinn steals the show as a glib Jacob Marley. Sayjal Joshi is a salty Tiny Tim and Beth Melewski is a a super-hip and saucy Ghost of Christmas Present. The cast is superbly rounded out by an acerbic Robin Scott asMrs. Cratchit and an emphathetic Tim Stoltenberg as Bob Cratchit. The creative team really makes it all come together: Tom Budewitz created the simple, but imaginative sets, Rachel Lambert provided costumes that both evoked the period and a bit of the modern day for hilarious contrast and Gina Patterson did a creative job with the lighting. Mara Filler is Production Stage Manager.

The audience is as much a part of the play as the cast. Audience "misdeeds" written in the lobby prior to the show are included in the onstage banter, as are audience reactions that are incorporated into the show on the spot. Its improv theatre at its best, and only as Second City can do it. The production also includes local celebs from varying backgrounds. Opening night included celebrity chef Rick Bayless, who has had his own musical stage show and feast "Cascabel" this summer at Mag Mile's Lookinglass. Theatre. Future cameos are planned with WBBM TV's Bill Kurtis, celebrity sommelier and former "Check Please" host Alpana Singh and Chicago Cub's Len Kasper.
Written by former The Colbert Report writers Peter Gwinn and Bobby Mort and directed by Artistic Director of the Second City Training Center Matt Hovde, "Twist Your Dickens" is, FUNNY and FUN!' It's just the tonic to cure Holiday Blues and, since the show changes every night, it's worth more than a single visit. GoodmanTheatre.org is the place for more information.