Met Live HD Die Meistersinger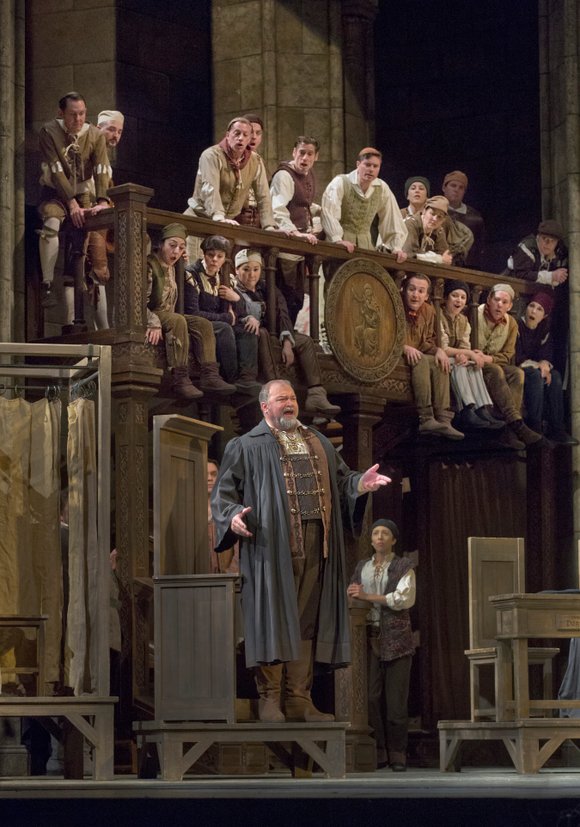 Met Encore Presentation tonight, Wednesday, December 17, at 6:30pm local time,
Canadian Encore February 7 at 12pm local time, Monday, February 23 at 6pm local time
The next Met Live HD presentation features Renee Fleming starring in Franz Lehar's "The Merry Widow," Saturday, January 17 at 12:55pm ET
Reviewed by Dwight Casimere
Metropolitan Opera Photos by Ken Howard
NEW YORK--Tonight, Wednesday, December 17th, is a special night for opera lovers world-wide, because they will have an opportunity to see the Met Opera's Live HD Encore Presentation of Wagner's Die Meistersinger in select theatres at 6:30pm, local time. The production, a revival of a production first mounted by the company seven years ago, is a dream-come-true for sincere lovers of the art form.
The production is a triumph on many levels. Just go down the checklist. It is Met Opera Music Director James Levine's first revisiting of the works of Richard Wagner since 2011, and he is in top form here. The international cast is a collection of the top Wagnerian singers in the world, making this a rare opportunity to see the likes of beloved Met veteran, bass-baritone James Morris as shoemaker Hans Sachs, South African heldentenor Johan Botha, another Met favorite, as the young knight, Walther, German soprano Annette Dasch as rhapsodic love interest Eva, celebrated German bass Hans-Peter Konig as the town goldsmith, Pogner, Johannes Martin Krankle as the town clerk, Sixtus Beckmesser and Scottish mezzo-soprano Karen Cargill in the role of Magdalene, Eva's attendant. The Metropolitan Opera chorus, directed by Chorus Master Donald Palumbo and the rich, world-class sound of the Metropolitan Opera orchestra, are reason enough to sit back, relax, and enjoy one of the lengthiest, but most satisfying evenings of opera this season.
The story unfolds in 16th Century Nuremberg, a regimented society, dominated by the culture of professional guilds. The opera takes place in this claustrophobic, highly regimented world,with the focal point the guild hall of the meistersingers, the hallowed fraternity of vocal musicians who are revered by all. To become a "master singer," candidates must pass a series of singing trials, which are governed by a byzantine set of rules. The test is graded with an intricate scoring system, controlled by one Sixtus Beckmesser, the town clerk, who is young Walther's nemisis. The test goes beyond singing. It encompasses personal aesthetics, moral integrity, and creative amplitude, all of which Walther has in abundance.
The young knight, Walther von Stolzing(Johan Botha), has fallen in love with the town goldsmith's daughter, the voluptuous Eva(Annette Dasch), who has been promised in engagement to the winner of the guild of meistersinger's song contest. Walther plans to win the contest in order to ask for her hand, but it thwarted at every turn by the town clerk, Meckmesser (Johannes Martin Kranzle), who keeps rigorous count of the impressionable young knight's many missteps and unorthodox singing methods. Despite the town clerk's condemnation, Walther has pricked the curiosity of Hans Sachs (Michael Volle), the town cobbler and himself a master singer. Sachs is intrigued by Walther's beguiling emotional appeal and his zealous devotion to inspired singing.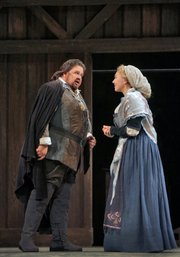 The opera is a long sit, nearly five hours, with the second act alone clocking in at over two hours. However, the rewards are infinite. Let's put it this way, I would rather sit through five hours of Wagner's Meistersinger, than an entire afternoon of NFL Sunday, with its frequent penalty replay delays, inane commentary and non-sensical commercials. Thank God for the pause button and DVR!
Thankfully, great opera is now as near as your local movie theatre and soon, hopefully, on your home DVR.
Superlatives like "sublime," "absolutely fantastic," and "a superlative performance," that have been used in other reviews of this production, are just the start. Suffice to say that this reviewer has already seen the production twice, both on the stage of the Metropolitan Opera House and Live in HD, and were it not for a special performance of Handel's "The Messiah" at the New York Philharmonic, an annual ritual, would be back in the Live HD audience again tonight! For tickets and theatre locations, visit metopera.org or fathomevents.com.