Valley View gets federal money to expand preschool
12/22/2014, 12:43 p.m.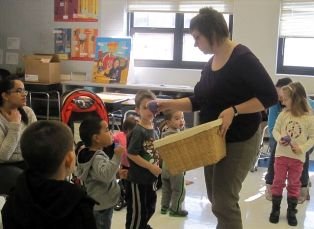 Valley View School District 365U issued this news release:
Valley View School District 365U will soon begin serious discussions on how to nearly double the size of its early childhood program next fall after receiving a four-year federal grant to fund the expansion of the VVSD program for academically at-risk preschoolers.
"We're very excited about receiving the grant," said Jacci Brown, Principal of the Valley View Early Childhood Center. "Valley View has a great reputation for having a quality preschool program. But this is an opportunity for us to help our under-served kiddos right before they go into kindergarten."
"Our district plan is based on a commitment to enhance our already existing program, implement quality improvements, and ensure strong community partnerships between the school district and other learning providers," VVSD Executive Director of Pre K-5 Educational Services Elizabeth Martinez told School Board members before they approved the grant application in October.
Plans call for the creation of an all-day program for 160 four-and-five-year-olds who will attend kindergarten the following year. Currently 255 students ages three to five attend on a half-day basis.
While the half-day program will remain in place at the Early Childhood Center located behind the VVSD Administration Center in Romeoville, the new program will likely be housed in several to-be-determined VVSD elementary schools as well as the Barber's Corner Kindercare in Bolingbrook and the Good Shepherd Head Start Center in Romeoville.
Both programs will follow the researched-based curriculum called "Creative Curriculum for Preschoolers" currently taught in VVECC, according to VVSD Early Childhood Center Student Resource Team Leader Michelle Sands, so the transition will be extremely smooth.
"And what's nice for our families, most of whom are employed in some capacity and struggle to find quality child care, is they will have an opportunity to have their child in a quality pre-school setting all day at no cost," she added.
After Winter Break, VVSD officials expect to formulate specific plans for the application and screening processes as well as staffing.
"There will be an application process similar to what we do for our pre-school kiddos now. Parents will fill out an application and we will determine their child's at-risk factor and conduct a screening to make sure we get the students who are most at-risk," Brown said. "Parents don't need to do anything right now. We'll let them know when it is time."
Current students in the VVECC half-day program will be able to apply for the new program as long as they turn four by Sept. 1, 2015.
"This is an ideal time to serve our kiddos in a full-day setting," Brown said.
"Our children will have more opportunities to have a consistent learning experience," Sands added. "We're going to be able to create a more collaborative experience so parents and kids don't get lost in the shuffle."