Anna Bolena at Lyric Opera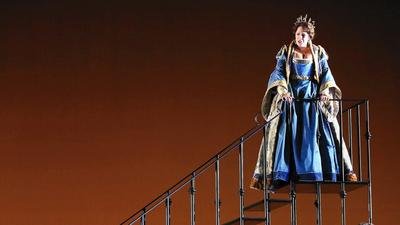 Donizett's Anna Bolena is rarely performed. Lyric's last and only production was in 1985 with Dame Joan Sutherland as Henry VII's second wife. Maria Callas portrayed Anne in the 1950s and Beverly Sills sang Anna and Donizetti's other Tudor Queens–Roberto Devereux (Earl of Essex, loved by Queen Elizabeth), Maria Stuardo, and Anna Bolena–with the New York City Opera in the 1970s. Dallas Opera and the Met mounted it within the last few years. Lyric's current production is in cooperation with the Minnesota Opera, which performed the trilogy.
Donizetti's Anne Boleyn is not the queen we think we know from PBS, Hillary Mantel or Phillipa Gregory. All agree that Anne was learned and intelligent; but the operatic Anne is not a shrew, and she was a noble wife, not a loose woman. But she was a Protestant when the country was still Catholic and Henry's replacing Queen Katherine with her tore the country apart. Then, Henry wanted Anne gone; having ridded himself of his first wife, he troubled less in disposing of his second: no English queen had been arrested and executed before; none has been since.
Neil Patel's brilliant set shows Anne's real "crime": not birthing a son and heir. The opening scene shows a bed, more utilitarian than opulent, which moves and revolves; the back of the enclosure is the royals' throne. Jane Seymour, Anne's lady-in-waiting, once her friend, now her rival, is Henry's choice for his next queen. Their scenes also take place around the bed.
Soprano Sondra Radvanovsky sings Anna, a complicated and long role. What amazing stamina: She is not only onstage for nearly the entire three-plus hour opera, she ends it with a tour de force mad scene. Ms. Radvanovsky sang Aida here, a few years ago, as well as Amelia (Masked Ball) and Elvira (Ernani). It has been a joy to hear her grow into a world class Verdian. Her bel canto singing is luminous, with silken long lines and wonderfully nuanced, shaped phrases, crescendos and diminuendos. American mezzo Jamie Barton sings her betrayer, Jane Seymour. They are wonderfully good together, like the young Marilyn Horne with Joan Sutherland. Mezzo Kelley O'Connor rounds out the women singers in the pants role of Smeton, the young musician/page who idolizes Anne. Her voice is has a rich contralto timbre.
Bass John Relyea in his (vocal) prime is Henry in his prime, every inch a king: passionate, crafty, tender and imperious.

Tenor Bryan Hymel made an auspicious Lyric debut as Lord Richard Percy, Anne's love since her youth. Henry has recalled him from exile to frame him as Anne's treasonous lover. Mr. Hymel has become known for last minute substitutions in the grand French operas, including Les Troyens. He has a wonderful, rich, focused sound and great high notes.
Ryan Opera Center members Richard Ollarsaba and John Irvin are Anne's brother, Lord Rochford and Lord Hervey, respectively.
There is an Old Master grandness to the act one set. Architectural elements descend from a richly carved ceiling. The previously mentioned bed also descends below stage. Another evocative element is a moving metallic 12-staircase, which show
characters relationships to one another.
D.M. Wood's lighting is multi-layered. Backdrop is usually one single color to denote time of day or emotional environment.
Jessica Jahn costumes are opulent, but also move well.
Kevin Newbury brings all the elements together to achieve both humanity and period grandeur.
The orchestra played very well for conductor Patrick Summers, artistic and music director of Houston Grand Opera. Some French horn solos were particularly lovely.
Mr. Summers and the production team were all debuts.
This production is one of the greatest on my short list of greats. All of its elements work together seamlessly, perfectly. It runs through mid-January.