Cheesy au Gratin Potatoes
12/23/2014, 3:14 p.m.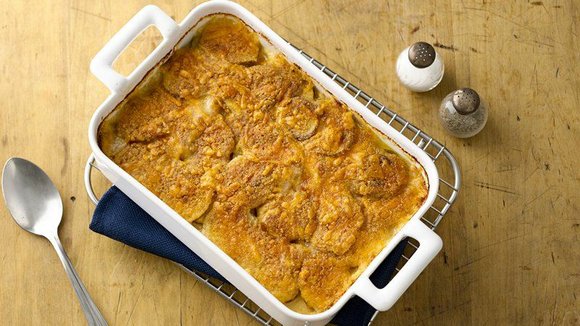 SERVINGS: 6
Ingredients
6 medium boiling or baking potatoes (2 lb)
¼ cup butter or margarine
1 medium onion, chopped (1/2 cup)
1 tablespoon all-purpose flour
1 teaspoon salt
¼ teaspoon pepper
2 cups milk
2 cups shredded natural sharp Cheddar cheese (8 oz)
¼ cup dry bread crumbs (any flavor)
Paprika
Directions

Heat oven to 375ºF.

Scrub potatoes but do not peel. Cut into 1/8-inch slices to measure about 4 cups.

Melt butter in 2-quart saucepan over medium heat. Cook onion in butter about 2 minutes, stirring occasionally, until tender. Stir in flour, salt and pepper. Cook, stirring constantly, until bubbly; remove from heat.

Stir in milk and 1 1/2 cups of the cheese. Heat to boiling, stirring constantly. Boil and stir 1 minute.

Spread potatoes in ungreased 1 1/2-quart casserole. Pour cheese sauce over potatoes.

Bake uncovered 1 hour. Mix remaining cheese and the bread crumbs; sprinkle over potatoes. Sprinkle with paprika. Bake uncovered 15 to 20 minutes longer or until top is brown and bubbly.