Cherries Jubilee-Black Pepper Glazed Ham
12/29/2014, 6:41 a.m.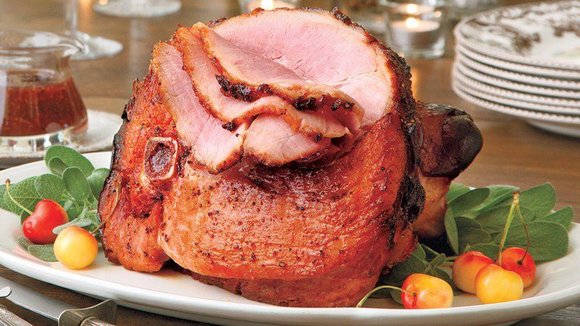 SERVINGS: 10
Ingredients
1 fully cooked smoked bone-in ham (10 to 12 lb)
1 ¾ cups reduced-sodium chicken broth (from 32-oz carton)
2 jars (12 oz each) cherry preserves (2 1/4 cups)
¾ cup brandy
¼ cup cider vinegar
3 tablespoons coarse-grained mustard
3 tablespoons cane syrup
1 tablespoon freshly ground pepper
Additional coarse-grained mustard
Fresh cherries and fresh sage sprigs, if desired
Directions
Heat oven to 275°F. Line roasting pan with foil. Remove skin from ham; trim fat to 1/4-inch thickness. Make shallow cuts in fat 1 inch apart in diamond pattern. Place ham in roasting pan; add broth to pan.

In 2-quart saucepan, stir together preserves, brandy, vinegar, 3 tablespoons mustard, the syrup and pepper; heat to boiling over medium-high heat, stirring constantly. Reduce heat to medium-low; simmer 5 minutes, stirring constantly, until mixture is slightly reduced. Cover and refrigerate half of cherry mixture until serving time. Brush ham with half of the remaining cherry mixture.

Bake ham on lowest oven rack 4 hours to 4 hours 30 minutes or until meat thermometer reads 140°F, basting with remaining cherry mixture every 30 minutes. Let ham stand 15 minutes before slicing.

Serve ham with mustard and reserved cherry mixture. Garnish with cherries and sage.