Community group wants action on study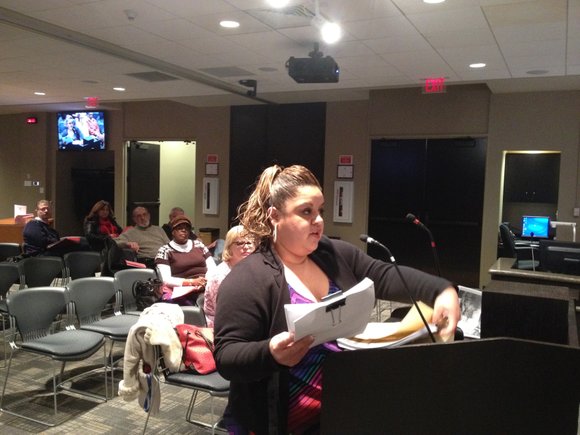 As Joliet city officials prepare to map out a strategic plan to figure out which projects to pay for first from the 2014 budget, members of the Unity Community Development Corporation (Unity CDC) are reminding the Joliet city council about a previous study, "The Quality of Life plan" that was completed 7 years ago aimed at improving the quality of life in Joliet's 4th and 5th Districts.
Amy Sanchez, a member representing the Unity CDC – a nonprofit organization developed in 2006, representing the 2 districts, questioned city council members at Monday's pre-council meeting why they are creating another plan when the Quality of Life plan has yet to be fully implemented.
"While some of the 75 action items outlined in the Quality of Life plan were initially addressed, the "ball has been dropped" on other aspects of the plan since the economy took a downturn," Sanchez said.
The Unity CDC's Center for Working Families helped her get back on her feet after returning to live in Joliet with her four children, she said, adding that she became very motivated after thoroughly reading the Quality of Life Plan. Sanchez and some of her neighbors later launched the Collins Street Neighborhood Organization, located on the east side of Joliet near Lockport.
"Over the last four years, this neighborhood organization as well as others in the 4th and 5th Districts sprouted up," Sanchez said. "We were mentored by older neighborhood organizations from the Cathedral area and St. Pat's… We promote and drive the Quality of Life plan in all of our actions."
Now, Sanchez says she and members of other neighborhood council groups are starting to plan strategically to further implement the Quality of Life Plan to improve not only the 4th and 5th Districts, but the entire city of Joliet.
Joliet City Manager Jim Hock and other city officials plan to hold two meetings at 6 p.m. Tuesday, Feb. 11 and Wednesday, Feb. 12 to discuss the new strategic plan. The meetings are going to be held at Fire Station No. 1, 101 E. Clinton St.
Sanchez wanted to know how the new strategic plan will incorporate the action items yet to be fulfilled from the Quality of Life Plan.
"I would ask that this council implement that Quality of Life plan and follow through with all of those actions that we all agreed to in 2006 and 2007…," she said.
The strategic plan is "really for the city council and the staff, unlike a community visioning process that would take almost a year…," Hock said. "This is going to be a bit more focused."
Rex Robinson can be reached at rex@thetimesweekly.com.