Sandford Extends Stay In Joliet
2/5/2014, 2:49 p.m.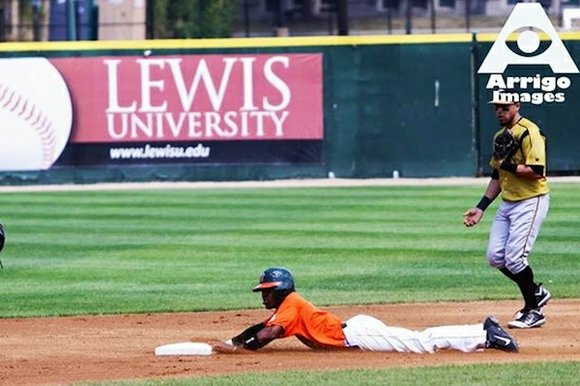 The Joliet Slammers signed center fielder and speedster, Darian Sandford, to a contract extension for the 2014 season.
Sandford, who was drafted by the Kansas City Royals in the 47th round of the 2010 MLB June Amateur Draft out of Park University, returns to the Slammers after being acquired in a trade with the Washington Wild Things (Frontier League) last summer. The St. Louis, MO native spent two years in the Royals organization before being picked up by the Southern Illinois Miners (Frontier League) in 2012. Sandford went on to set the Frontier League record that season with the Miners and Wild Things swiping 71 bags in 94 games.
New Slammers skipper Jeff Isom looks forward to having Sandford on his side of the diamond this year. "Darian can change the game for you with his speed. He puts a lot of pressure on the defense and has impacted our league for a couple of years now. I'm looking forward to working with him," said Isom.
In his four-year professional career Sandford has stolen 193 bases while scoring 179 runs. Over 29 games with the Slammers last season the left handed hitter scored 22 runs with 22 stolen bases. Sandford also made the Frontier League all-star team in his 2012 record-setting season.
The Joliet Slammers presented by ATI Physical Therapy play at Silver Cross Field in downtown Joliet, Illinois, and are members of the professional, independent Frontier League. The Frontier League is a 14-team league entering its 22nd season of play in 2014.