Umbria Wines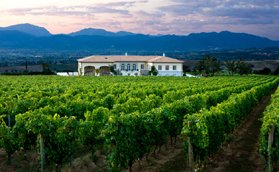 MONTEFALCO, ITALY--Umbria is one of Italy's smallest wine producers and pales in production and reputation in comparison with its more well known neighbor Tuscany, but the strength of its wines and it's history make it a powerhouse worthy of the renewed attention it is receiving.
Umbria's history goes back to the Benedictine monks who were the first to plant vineyards in its hilly clay and sand soil. St Francis of Assisi was said to have drunk the sacramental wine produced from the vineyards around the ancient monestary in the village that now bears his name. The wines of Umbria are both rich in history and rich in flavor.
Ranging from the crisp, white, peach-flavored white wine called Orvieto to the almost tart, black cherry flavored variety called Sagrantino, which is only found in vineyards from the steep hillsides of Montefalco, the wines represent exceptional value and a real taste adventure that makes it an exciting time to bring these terrific wines front and center on the wine appreciation stage.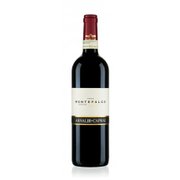 IEEM-USA, International Event & Exhibition Management, LLC of Miami, completed a sweeping U.S. Tour, "Simply Italian" which showcased the incredible wines of Umbria along with a showcase of Italy's vast range of wines and wine producers. Tom Hyland, Author, wine journalist and Italian Wine Expert spearheaded a discussion of the wines of Umbria, prior to a guided tasting. Among the wines presented was Sagrantino from Arnaldo-Caprai. Winemaker Marco Caprai, taking the mantle from his father, Arnaldo Caprai, has almost single-handedly rescued the ancient Sagrantino grape variety and its rich, dark, cherry red wine from obscurity. Cultivating the Sagrantino grape and transforming the ancient, often sweet "sacramental wine" into a more sophisticated fruity, yet dry dinner wine that bursts with character and flavor, became his passion. The resulting wine has earned him accolades that reverberate throughout the wine world, culminating last year in Arnaldo Caprai being named European Winery of the Year by Wine Enthusiast magazine.
His Arnaldo Caprai Montefalco Rosso 2009 sells for just $20. With its rich Ruby-red color, intense aroma and notes of ripe red fruit and delicious long finish, it's the perfect accompaniment to Roast Turkey, Roast or crispy Roast Duck with a caramelized glaze of bright Meyer Lemon citrus, orange blossom honey and cranberries.