Little Theater demolished as part of Joliet Central expansion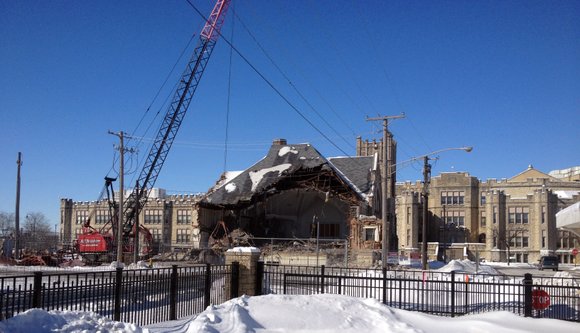 The former St. John Lutheran Church on Herkimer Street in Joliet, which later became Joliet Central High School's Little Theatre met with a wrecking ball Friday to make way for a $28 million expansion at the school.
"Demolition of the Little Theatre was a fiscally responsible decision for the district as it considered the options available to make space for the addition of the Student Center," Joliet Township High School District 204 Assistant Supt. of Business Services Ilandus Hampton told The Times Weekly. "Renovation was not an option due to the cost associated with upgrading the facility to meet the educational needs of the 21st Century."
The district plans to issue bonds in three different installments to pay for the project and recently issued $10 million in bonds to get the project started. The project includes the construction of a student center and galleria at the 100-year-old high school on Joliet east side to make way for a larger cafeteria.
District officials are working closely with the school's Archives Committee to ensure the building's historic integrity, according to Hampton.
"The goal is to maintain the integrity of the building," Hampton said.
The project will take place in three phases, with completion slated for the second semester of the 2015-16 school year. Phase one included the relocation of the Infant Childcare Center that was housed in the lower level of the Little Theatre. The Infant Childcare Center has moved across Collins Street to vacant space available due to the relocation of district's transportation center.
With the relocation of Infant Childcare Center completed, Phase two of the construction project will begin and the demolition of the Little Theatre will provide space for the construction of the new Student Center. Phase two is scheduled to be completed in August.
"The West Campus is currently meeting the needs of our students, and facility expansion recently took place with the addition of the Science Center," Supt. Cheryl McCarthy has said. "However, there still remains a need for expansion at the Central Campus, and this project is designed to add functional and flexible space for student and community use."
Rex Robinson can be reached at rex@thetimesweekly.com.