Hospital's staff doles out food to the hungry in Joliet
2/13/2014, 10:27 p.m.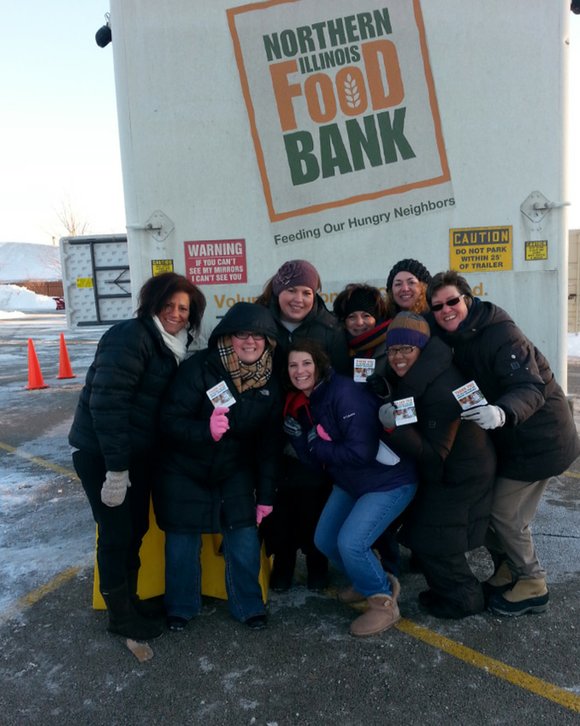 Staff from Presence Saint Joseph Medical Center recently teamed up with Northern Illinois Food Bank's Mobile Pantry to pass out food to hungry families in Joliet.
Presence St. Joe's nurses and other staff members braved the sub-zero temperatures last week to distribute foods to 86 families benefitting 339 individuals. Together, the two organizations distributed meat, potatoes, mac and cheese, cereal, cheeses, bread and other assorted foods.
Northern Illinois Food Bank's Mobile Pantry is a traveling food pantry that brings food to high-need communities. Set up much like a farmers' market, the Mobile Pantry allows people at risk of hunger choose food that meets their dietary preferences. Each Mobile Pantry visit provides as many as 300 families with fresh fruits and vegetables, frozen meat and non-perishable foods.
With more than 70,000 individuals in Will County facing hunger, Presence St. Joe's was proud to partner with the Northern Illinois Food Bank. "We have a responsibility," says Director of Nursing Education, Lynn Watson, "Not only to our patients but to the entire Will County Community. We want to help ensure that everyone gets the proper care, including appropriate nutritional needs, and collaborating with an organization like The Northern Illinois Food Bank allows us to help those who need it the most."
Thursday's food drive was just one of many events held last week at the medical center, which formally announced their intent to apply for Magnet Recognition through the American Nurses Credentialing Center. Magnet Recognition is an international credential recognizing nursing and organizational excellence in healthcare organizations.
Magnet hospitals have proven themselves to have better patient outcomes, higher nurse-physician collaboration, and a safer work environment. Presence Saint Joseph Medical Center strives to be among those leading the transformative health care, advancing the discipline of nursing, and continually working to improve care of the patient, family, and community.
Chief Nursing Officer Jackie Medland (far right) and Presence St. Joseph Medical Center staff are all smiles after passing out food to hungry Will County families.