Coverage of Gay Football Player Goes into Overtime
Raynard Jackson | 2/18/2014, 10:02 p.m.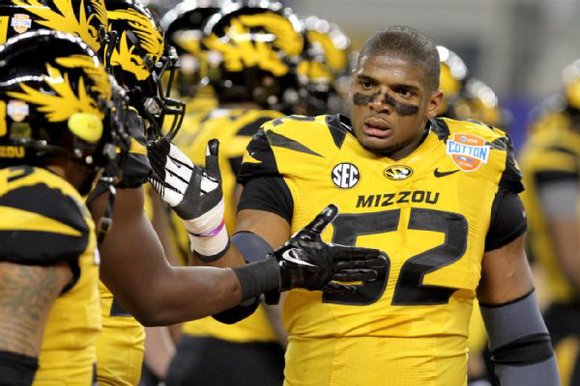 Michael Sam, the All-American defensive end for the University of Missouri, is making more news off the field than on. According to Sports Illustrated, "Sam came out to his Missouri teammates last August. Coaches and classmates also knew he was gay well before today. Multiple sources have told SI that Sam strongly considered making an announcement late last summer and was willing to play his senior season as an openly homosexual athlete. (He decided against it at the last minute.)."
Wow! Stop the presses! This is earth-shattering news! Or, so people will tell you.
People have lost their minds over this issue. Let a heterosexual go to his job and tell co-workers that he likes women and he will be reprimanded by the human resources department (HR) or even fired. But if you announce that you are homosexual, you get statements from Obama, Michelle, Pelosi, Sharpton, and Jesse.
All because Sam MAY be the first known homosexual to be drafted by a professional sports team. Pro-homosexuals have used adjectives like historic and courageous to describe Sam. Of course, he is neither.
His homosexuality is his story, but not history; nor is it historic. Historic is defined as an event that is well-known or important in history. Sam and his announcement will be neither in the annals of history.
Courageous is signified by a member of the military who faces bullets from the enemy in a war zone. Courageous is announcing you are homosexual in Saudi Arabia. Or, Nigeria.
On Sam's worst day, his life will never be in jeopardy. The worst case for Sam will be that he doesn't get drafted by an NFL team and doesn't get the chance to play professional football.
Asking a chicken for some eggs is asking for a contribution; but asking a pig for bacon is a total commitment. Sam is making a contribution to the homosexual movement; but not a commitment.
Mother Teresa, Malcolm X, and Dr. Martin Luther King, Jr. all gave bacon for their beliefs – their lives. At most, Sam will not have a football career – eggs.
What is he sacrificing as a result of being homosexual or what is he risking? Absolutely nothing.
If all he wants, as he claims, is to play professional football; then what is the relevance of his being homosexual? He reminds me of women sportscasters who claim they want to be taken seriously as a journalist, then they do a photo spread of themselves in a bikini for a magazine.
If it's about football, then go tackle and keep your homosexuality to yourself. If it's about the career, then why do you feel the need to be seen in a bikini?
This is all about the homosexual community seizing on an opportunity to further force their agenda on the American people. They have strategically put America and the NFL in a box that neither can get out of. If for whatever reason Sam does not make an NFL team, the cause will be blamed on him being a homosexual. Should that happen, just watch GLAAD, HRC and the White House pressure the NFL to hire Sam in the NFL's corporate office as a liaison to the homosexual community. Just watch.