Former Joliet resident morn's loss of son, lack of justice
Madhu Mayer | 2/19/2014, 5:08 p.m.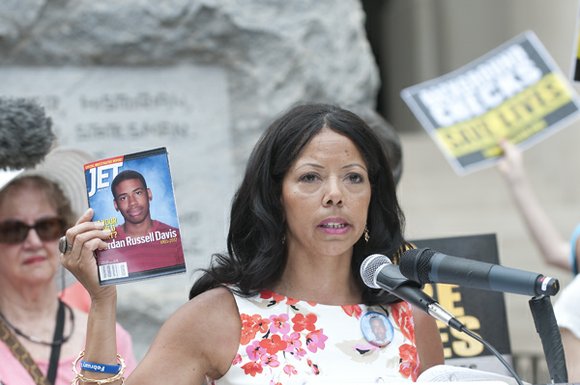 A former Joliet resident is asking everyone to focus on the life her son lived following a controversial jury verdict in the Florida case of a man who opened fire on a car of African-American teenagers during an argument over loud rap music.
A Florida jury on Feb. 15 convicted Michael Dunn, 47, on three counts of attempted murder for shooting at the car, but they could not reach a verdict on a murder charge for the killing of Jordan Davis, 17, whose mother is Lucia (Holman) McBath, a former Joliet resident.
Dunn, a software engineer, fired 10 rounds at a vehicle carrying four teens in a Jacksonville gas station parking lot in November 2012. Since the jury deadlocked on the most serious charge of first-degree murder against Dunn, it forced Judge Russell Healey to declare a mistrial on that count. But Dunn still faces at least 60 years in jail for the attempted murder convictions against the three other teens, according to legal analysts.
In an interview with The Times Weekly, Davis' mother, McBath, said her son was a "life of the party" with a "wonderful sense of humor."
"He was compassionate and sensitive," shared the proud mom, who now lives in Atlanta. "He was very inclusive. Jordan liked everyone."
McBath said she does not fault the jury for failing to convict Dunn of her son's murder. Instead, she said, laws need to be changed, such as Florida's controversial stand-your-ground regulation. Stand-your-ground law is a type of self-defense law that gives individuals the right to use deadly force to defend themselves without any requirement to evade or retreat from a dangerous situation.
"The jury did everything they could to reach a just decision," she said. "They've done the best they can with the tools they have."
Davis' father, Ron Davis, said he and McBath believe God will render the final judgment against Dunn.
"God gives you justice," said Davis, whose son moved to Jacksonville about two years ago to live with him. "I tell people God is the ultimate justice."
Despite their son's tragic death, McBath and Davis have always maintained in the media that the killing was never a race issue. McBath learned much of her compassionate nature through her family, who had prominent roots in the Joliet area.
McBath's father was a doctor, one of a few African-American dentists for many years in Joliet. Dr. Lucien Holman, who had another daughter, Lori, also owned a newspaper called The Black Voice in Joliet during the 1960s that was targeted to the African- American community. His wife, Wilma, was a nurse.
Before moving out of Joliet when their family was young, Dr. Holman played an active role in the Civil Rights movement, according to former Judge Raymond Bolden.
"He was the Illinois state president of the NAACP," said Bolden, a family friend. "He was very prominent and enormously important to our community. He truly got the job done."