More than 1,200 enroll in health plans through the County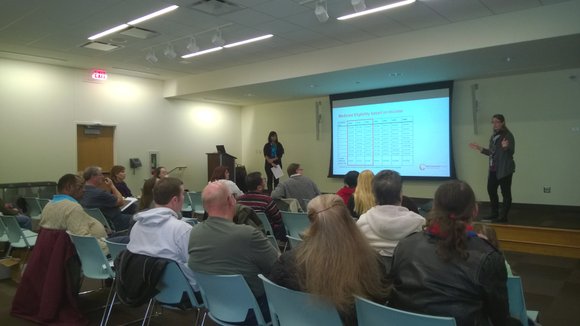 Will County has helped nearly 1,250 people enroll in health insurance plans through the Affordable Care Act since the program launched on Oct. 1 of last year.
"We think that we're doing a pretty reasonable job of reaching people," Will County Health Department spokesman Vic Reato said.
Reato estimates that the 1,249 enrollees would probably have been higher, but the three-week long strike by county workers in November of last year slowed things down.
Between the health department and the county's Community Health Center, the county has six navigators who are helping people enroll in health plans.
"Enrollment can be a real issue with all the different plans and that's why the county has these navigators available," Reato said. "They can help with a variety of different issues."
The navigators have assisted 309 people in enrolling in health insurance programs since Jan. 1, representing an increase of 32.9 percent since the enrollments began. They also have gone out into the communities and done more than 40 presentations. The presentations have been held at public libraries and a variety of other places. Navigators also have gone to the MorningStar Mission in Joliet to assist the homeless in signing up for health care programs, according to Reato. Anyone who makes $16,000 or less per year is eligible for expanded Medicare through the program.
Reato added that it is essential to reach out to the homeless population because those individuals are the most likely to not have access to a computer or even a telephone.
"We're doing our best to reach as many people as possible," he said.
As of Oct. 1, it was estimated that Will County had more than 70,000 people without health insurance. The U.S. Department of Health and Human Services (HHS) just released numbers for the first four months of enrollment under the federal Affordable Care Act, showing that 88,602 Illinois residents have selected a private health care plan through the federal website since Oct. 1, 2013. The report, however, also indicated that 203,922 residents throughout the state are determined eligible to enroll in a market place plan. A breakdown by counties was not available, but Reato estimates that there likely "still a large number who haven't signed up. Maybe it's that a lot of people are just waiting until the last minute," he said.
The deadline to sign up for a plan is March 31 and anyone not signed up for health insurance by that date would face a penalty.
County board members in both Homer Glen and Bolingbrook have sponsored presentations in their respective communities to educate residents about the Affordable Care Act. These are above and beyond the ones sponsored by the two Will County health departments that have been held throughout the county.
About 20 people attended a program held this past Saturday at the Fountaindale Public Library in Bolingbrook, according to Will County board member Jacqueline Traynere (D-Bolingbrook).
Traynere said she wishes the county had a budget to do some advertising for the county's presentations on the Affordable Care Act to get more people out to the events. Maybe then, she said, more people would see the value in signing up for a plan.
She said there is a lot of misinformation out there about the Affordable Care Act. For example, as a small business owner with less than 50 employees, Traynere and her husband thought they needed to get health insurance for all their employees, but found out that wasn't the case.
The reasons could be many as to why people are not signing up for health insurance plans, and Traynere said she just can't understand why people are reluctant.
"We have 35 people working for us and my husband has tried to talk to them about insurance and they had no interest," she said. "That's just sad, because they don't know when they're going to have a problem. If that happens, they'll end up in the emergency room with no insurance."
Rex Robinson can be reached at rex@thetimesweekly.com. news@thetimesweekly.com