Route 66 Red Carpet Corridor annual festival
2/25/2014, 10:41 p.m.
The 13 communities situated along historic Route 66 between Joliet and Towanda, Illinois, are already deep into the process of planning the 2014 Red Carpet Corridor Festival. This year's event will be held on May 3rd and May 4th in each of the towns. The tradition of each town offering its own unique set of events for the festival will continue, and planned events include car and motorcycle shows, cook-offs, art displays, live musical performances, retail shopping specials, contests, cruises, fun runs, and antique, collectible merchandise. Many communities will have yard sales, garage sales, and flea markets to satisfy the shopping needs of most people. To assist festival-goers in finding the best shopping bargains, the Red Carpet Corridor committee recently announced a new partnership with Kickson66Sale.com. Kicks on 66 Sale is a multi-municipal destination shopping event, which will run concurrently with the Red Carpet Corridor Festival along the 90-mile corridor of Route 66 that runs from Joliet to Towanda.

Regarding this new partnership, Ellie Alexander, chairperson of the Red Carpet Corridor, recently noted, "This is a perfect match for Route 66 heritage travelers and especially for the Red Carpet Corridor festival which draws thousands of visitors to the 13 communities along this section of the Mother Road." 2014 will be the 8th year of the festival and during the May 3rd and 4th weekend each of the towns along the highway will offer its unique schedule of events related to Route 66 history. There will be car and motorcycle shows, live entertainers, lots of food, games, cook-offs, and of course, many flea markets, garage and yard sales, and retail events.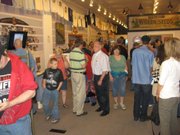 Kicks on 66 Sale is the brain child of Debyjo Ericksen who created her event after spending several years researching multi-municipal linear sales. "I've traveled the Midwest attending country markets and linear sales and love the fact that you can get off the expressway and back into the rural roads of America and truly experience the culture of the community." As an avid antiquer and sale junkie, Debyjo has worked to make this destination shopping event the "Mother Sale on the Mother Road".
The Kicks on 66 Sale.com website also includes information on lodging, restaurants, and other related attractions along America's Main Street – Route 66.

As is traditional with the Red Carpet Corridor Festival, this year the festival will offer travelers a special collectible souvenir just for making the entire festival journey. A free postcard collection is this year's collectible. Each of the 13 communities will design a postcard that exemplifies some aspect of their history or Route 66 heritage. Visitors can gather a complete set of the 13 postcards only by visiting each of the 13 communities. Quantities of the cards are limited, so festival travelers are encouraged to start their 90-mile exploration of the Red Carpet Corridor event early. For additional information on the Red Carpet Corridor Festival, the postcard pick up point in each town, or on Kicks on 66 Sale, visit il66redcarpetcorridor.org or contact the Pontiac Office of Tourism - 815-844-584