Former Bolingbrook Coach Tony Smith Suspended By IHSA
2/26/2014, 5:06 p.m.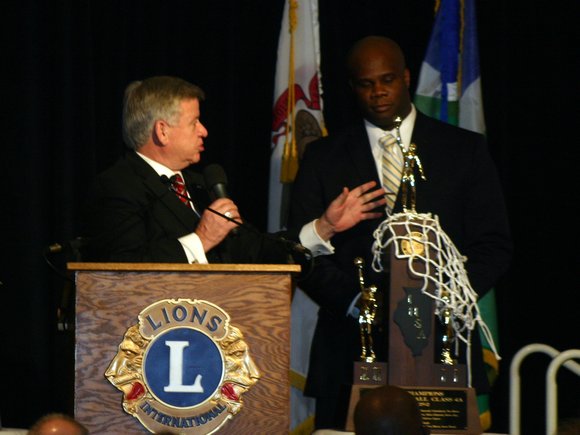 The Illinois High School Association (IHSA) announced that the Homewood-Flossmoor High School Girls' Basketball team and head coach Anthony Smith are suspended from participating in the IHSA State Series over a series of IHSA by-law violations. The girls' basketball postseason pairings will not be changed and TF North will receive a forfeit victory in their Regional Semifinal game.
The violations came to light after Homewood-Flossmoor recently asked the IHSA to review the findings of its own internal investigation, which resulted from a lawsuit filed by one of its current players. The school's investigation did not produce any violations.
On the evening of February 18, the school initially indicated to the IHSA that it would self-impose suspensions of 11 of its current varsity players and head coach Anthony Smith over the violations, but they would participate in the Regional with other players. On the morning of February 19, the school asked to appear before the IHSA Board of Directors during the Board's regularly scheduled meeting on Wednesday. IHSA Executive Director Marty Hickman provided an official ruling when school officials arrived, suspending the team and head coach Anthony Smith from participating in the State Series, at which point the school appealed the ruling before the Board.
After deliberation, the Board upheld the Executive Director's decision and required the school to forfeit its regular-season wins from the 2013-14 season.
The violations center on the IHSA's Independent Team Participation By-laws (3.107), Athletic Season Limitation By-laws (2.090) and Open Gym Limitation By-laws (3.161).
"Not adhering to these by-laws created a distinct advantage for the Homewood-Flossmoor girls' basketball program," said IHSA Executive Director Marty Hickman. "The school has admitted to violating IHSA By-laws 2.090 and 3.107. In fairness to the teams in the tournament who abided by IHSA rules, removing Homewood-Flossmoor from competition was the most equitable decision."
Hickman said more violations, potentially involving other sports as well, may be discovered as the investigation continues.
"We are still in the initial review of what occurred at the school and when," said Hickman. "From the information provided thus far, other programs at the school may have also violated our Season Limitation and Open Gym by-laws. However, we will not know the full scope of the possible violations until we have completed our investigation. The investigation into the aforementioned recruiting violations is ongoing as well."