Hospital's first baby of 2014 and mom share New Year's Birthday
1/3/2014, 8:04 a.m.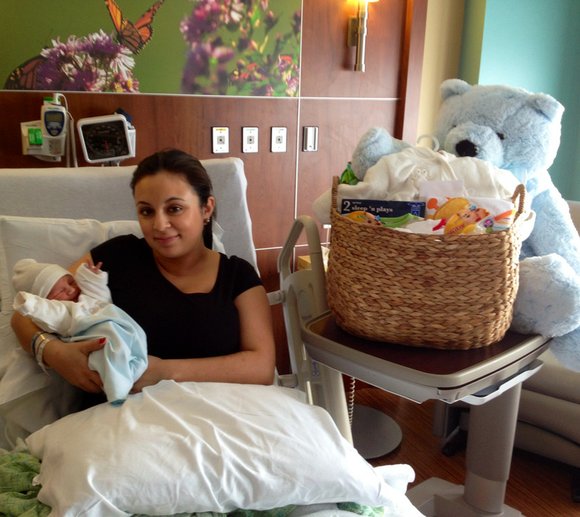 It was an extra special day for Daniela Castillo. Not only was it her birthday, but she gave birth to the first baby born in 2014 at Silver Cross Hospital in New Lenox.

With the help of Dr. Fancisco Garciniobstetrician/gynecologist with Partners in Obstetrics and Women's Health, Daniel was born on Jan. 1 at 10:33 p.m. weighing 6 pounds 11 ounces and measuring 19 inches.
Ironically, Daniela, of Naperville, was born shortly after midnight over two decades ago on New Year's Day. When the nurses told her that her son was the first baby born in the new year, she was surprised and elated to be able to share such a special day with her son.
"He's such a blessing," said Daniela Castillo. "J.R., myself and our entire family are so excited that Daniel could be born on New Year's Day."
To celebrate, the Silver Cross Birthing Center, staff filled a gift basket with an array of baby items. In addition, the hospital's Childerguild Gift Shop gave baby Daniel a gigantic blue teddy bear. The Childerguild has supported women and children's services at Silver Cross for more than 100 years.
About the Silver Cross Women and Infant Birthing Center Silver Cross has brought together cutting-edge medical technology with spa-like amenities to make the birthing experience all the more memorable. The new Birthing Center at the New Lenox Hospital has 12 birthing suites designed for labor, delivery and recovery so parents can have the convenience of staying in the same room through recovery followed by a stay in one of 30 private mother-baby suites. Each private suite is fully-equipped with a bathroom with a shower and immersion tub to help with labor pains, blanket warmer, refrigerator, wireless internet access, 30" flat screen TV system, and a comfortable sofa-sleeper so family members can stay around the clock.
Furthermore, a variety of pain relief methods is available 24 hours a day provided by an anesthesiologist. And for deliveries requiring surgery, there are two complete cesarean suites. Lurie Children's Hospital neonatologists and pediatric hospitalist is onsite 24 hours a day, seven days a week. And if needed, Lurie Children's pediatric cardiologists are available to analyze a baby's echocardiogram in real time through a video linkage with Silver Cross. For more information about the new Silver Cross Women and Infant Birthing Center, visit www.silvercross.org/specialdeliveries.