Shoveling Snow? Learn to protect your back
1/8/2014, 11:51 a.m.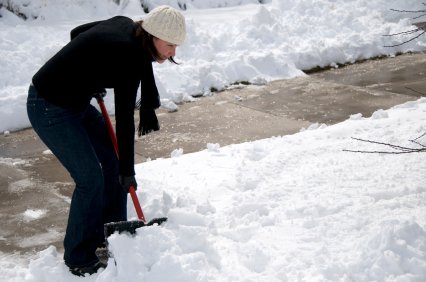 Since snow season has arrived, it's time to arm yourself with a shovel and salt to dig through the snowdrifts and icy walkways. However if you're prone to back injuries, you may want to consider hiring someone to remove the snow, while you sit back and enjoy drinking a cup of hot cocoa. So how can you prepare to shovel snow safely so not to injure your back? The Rehabilitation Institute of Chicago (RIC) at Silver Cross Hospital is offering a lecture on eliminating back pain that will educate area residents on how to do so.
Free Lecture on Back Pain
Dr. Andrew L. Hendrix, medical director of the Rehabilitation Institute of Chicago (RIC) at Silver Cross, will present a free program titled: Common Causes and Non-Surgical Treatment of Low Back Pain, Monday, January 20 at 1 p.m. in the Silver Cross Hospital Conference Center, Pavilion A, 1890 Silver Cross Blvd., New Lenox. This FREE program will discuss the common causes of low back pain and provide options on how to live better without surgery. To register, visit www.silvercross.org or call 1-888-660-HEAL (4325).

Tips to avoid a snow-shoveling injury include:
Warm up with some light stretch exercises.
Dress appropriately by wearing slip-resistant shoes and light, layered, water repellent clothing that provides both ventilation and insulation.
Push snow. And if you have to lift snow, use the stronger leg muscles for support, not the back.
Do not throw the snow over your shoulder or to the side because the twisting motion may stress your back.
Shovel often. The amount of snow that has to be removed is less and then lighter.
Use a proper snow shovel with a pole that is longer, adjustable, and curved to decrease the amount of bending needed to lower your risk of muscle injury. More user-friendly shovels are typically made of lighter materials such as plastic or lightweight aluminum.
Pace yourself and take frequent breaks. Don't shovel more than 30 to 60 minutes, just like you would during a regular exercise session.
Free Low Back Pain Screening
Suffering from lower back pain? Then schedule a FREE screening and treatment recommendation by an RIC physical therapist for individuals experiencing aches, pain, spasm, stiffness or weakness of the lower back. Screenings will occur between January 20 through 31 at The Rehabilitation Institute of Chicago (RIC) at Silver Cross in Homer Glen, 12701 West 143rd St. and at the Rehabilitation Institute of Chicago (RIC) in West Joliet, Silver Cross Professional Building, 1051 Essington Rd., Joliet. Call (815) 300-6288 (Homer Glen) or (815) 300-6580 (West Joliet) to schedule an appointment.