Castello Di Amorosa 2010 Napa Valley
Wine of the Week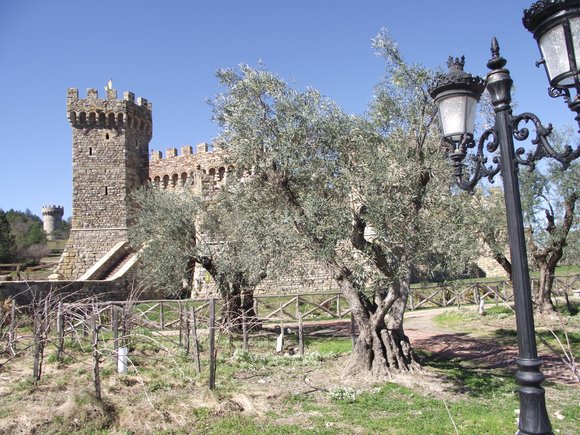 CALISTOGA, CALIFORNIA--High atop a hill above St. Helena Highway in the Napa Valley is the imposing medieval castle that is Castello di Amorosa, the "Castle of Love." This Tuscan- styled, 13th-century fortress is not only an homage to Italian ancestry of its owner and designer, Dario Sattui, it is also one of the nation's primary producers of old-world Italian style wines. The wines can only be purchased at the winery or by mail order, by calling 707-967-6274 or online at www.castellodiamorosa.com.

There's a special incentive to purchase these exceptional wines. With Valentine's Day approaching, there's no better time to drink wines from "the Castle of Love." My personal favorite is the Castello di Amorosa 2010 Napa Valley Sangiovese ($30).
Castello di Amorosa 2010 Napa Valley Sangiovese is a sterling example of the California incarnations of this classic Italian varietal. Sangiovese is the king of all grapes in Tuscany. Napa Valley's rich, volcanic soils are perfect for duplicating the lush, complex flavors of the Sangiovese grape which makes this wine an astounding value at $30.
During my recent trip to Rome, I attended the Gambero Rosso cooking school and participated in a cooking demonstration and dinner that involved a local favorite recipe for Pasta Carbonara. The dish included a special local cured bacon, made from the jowls of the pig called Guanciale (pig cheeks). If you happen upon Boar's Head brand Pancetta in your local supermarket, it is a close approximation. Alternately, Trader Joe's and most supermarkets carry the Citterio brand of Pancetta. This is a Milano-owned company that manufactures its cured Italian-styled meats in Pennsylvania. Although a far-cry from the guanciale I had in Italy, the quality is still quite good. To accomplish the recipe, the bacon is slow cooked to release the fat juices which are then combined with whipped raw eggs, Parmesan cheese, a bit of cream, white wine and fresh, homemade pasta. The hot oil and the heat of the pasta "cooks" the sauce, and the result is a creamy, mouth-pleasing dish of pasta that goes perfectly with this robust, yet elegant, full-bodied wine. You can make the dish more interesting by adding fresh or frozen peas, diced plum tomatoes and fresh, hand-torn Basil leaves to add both color and flavor.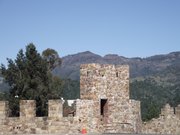 The Sangiovese is from Castello di Amorosa's very own vineyards and its full of flavors of crushed red tea roses, cranberries, a hint of juniper berry and flecks of cardamom and sticks of dried cinnamon. There's just a hint of dried cedar or potpourri and pomegranate to give it that yummy mouth feel that you can only get from a rich, red wine. Combined with the rich creamy sauce, the peppery ham and the salty cheese, this is a flavor journey you won't want to end any time soon.