O'Dekirk to run for mayor of Joliet
Formal announcement set for Tuesday on steps of Joliet Police Department
1/20/2014, 2:17 p.m.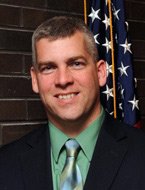 Joliet City Councilman Bob O'Dekirk plans to formally announce his candidacy for mayor of Joliet and his vision for the city's future at 4 p.m. Tuesday, Jan. 21 on the steps of the Joliet Police Department, 150 W. Washington St.
A longtime rival of incumbent Joliet Mayor Tom Giarrante, O'Dekirk has served as a Joliet City Councilman in the city's second district for the past three years and said he "has witnessed firsthand the pressing need for new leadership.
"For too long, partisanship and self interest have stood in the way of progress in our city," O'Dekirk said, adding that he is "dedicated to bringing about a renewed sense of shared purpose on the council and establishing a professional approach to the development of municipal policy."
The next mayoral election in Joliet is not until April 7, 2015.
O'Dekirk began his career in Joliet in 1993 as a Joliet police officer and during his ten years on the force, he was nominated four times for Police Officer of the Year. He was awarded the Martin S. Murin Labor Award in 1995.
In 2003, O'Dekirk graduated from John Marshall Law School and retired from the police department. He was then hired to work as a prosecutor for the City of Chicago. Three years later, O'Dekirk returned to Joliet to establish his legal practice.
In the fall of 2008, O'Dekirk was deployed to Iraq to work for the Department of State while training Iraqi police units with U.S. military operations. Approximately six months into his deployment, he was promoted to the position of Regional Commander for the Tikrit and Mosul regions.
After 20 months of service, O'Dekirk returned home and resumed his law practice in Joliet.