Local push to extend unemployment benefits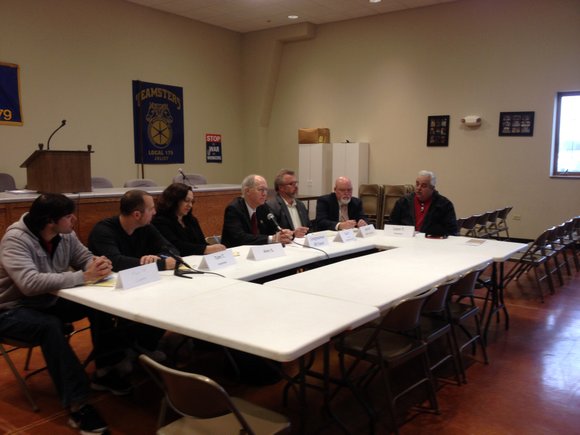 As the economy continues to sputter and with jobs both in and out of the trades remaining scarce, now is not the time to cut off emergency unemployment benefits to those who remain out of work.
That was the message from U.S. Rep. Bill Foster (D-Naperville) and unemployed workers who attended a press conference Friday at the union hall of Teamsters Local 179 in Joliet.
Unemployment benefits, Foster said, are a "hand up" not a "handout," and are there to keep families afloat until jobs become available again. The unemployment rate in Will County for the Chicago, Joliet and Naperville region was 8.1 percent in November, 2013. However, that number was substantially higher for African Americans – 12.5 percent for the same region.
The unemployment rate in November 2013 for Chicago, Joliet and Naperville, according to the U.S. Bureau of Labor Statistics, was 8.1 percent. However, for African Americans that number was substantially higher at 12.5 percent.
Foster is co-sponsor of a House measure to extend the Emergency Unemployment Extension Act of 2013, which expired last month. The measure would extend unemployment benefits to those unemployed workers for an additional year.
Matt Mejia, 32, and Tom Tuton, 33, two unemployed carpenters from Shorewood, said they have not built a home since 2006 and have turned to work at oil refineries and power plants in Will County. However, even that work is not consistent. Both stressed how important unemployment benefits are to keeping them going financially during these tough times.
"If it wasn't for unemployment, I would be out on the street," Mejia said.
Ben Kosiek, of Bolingbrook, is a business representative for Boilermaker's Union Local 1, and said many of the jobs throughout the region have simply dried up. Many of the workers, he said, have left the industry and might not come back. That is a problem, according to Kosiek, because when and if the economy does come back around there won't be the workers available to do the jobs.
"It takes eight years to train a boilermaker," Kosiek said. "We're not going to have the workforce."
Ann Schmidt, of Willowbrook, is a single mother of two who has been out of work and said both she and her children are struggling with health problems. Schmidt said she has been out of work before, but is really struggling now.
"This time, I don't know if I'm going to make it," a teary-eyed Schmidt said.
Will County board member Don Moran (D-Romeoville) said he has seen too many workers from the various trades lose their jobs and many have struggled financially, some even losing their homes.
"The impact this has had on families is devastating," Moran said.
Leon Theis, an unemployed carpenter from Morris, said while the unemployment benefits are necessary while he and others are out of work, he would rather be working. Theis was critical of those who consider major infrastructure projects as "pork." New roads, bridges and other public projects are necessary for the safety of everyone, Theis said.
"That's why I've been working so hard on the Illiana Expressway project," Foster replied.
Foster vowed to continue to push hard to get the unemployment benefits extended and support projects that put people to work.
He added that he cannot understand why so many Republicans are against extended this necessary benefit for families.
"This is something that used to pass with bipartisan support," he said.
Rex Robinson can be reached at rex@thetimesweekly.com