O'Dekirk vows to change the way the city is run if elected mayor of Joliet
Joliet City Councilman Bob O'Dekirk on Tuesday officially threw his hat into the ring to run for mayor and vowed to be accountable to the people if elected and "restore unity and civility among all."
O'Dekirk used the backdrop of the Joliet Police Department, his former employer when he served as a police officer before becoming an attorney, to announce his candidacy for mayor in the April 2015 election.
"Inside that building across the street (pointing to city hall), I have witnessed firsthand how our government operates," O'Dekirk said. "All too often, I have seen partisanship and self-interest stand in the path of progress and good government."
Critical of incumbent Mayor Tom Giarrante, who later Tuesday confirmed he will run for another term, O'Dekirk said while serving as a city councilman he has seen that new ideas are less important than old habits and that "cooperation is another word for a rubber stamp...
"The career politicians had their chance and have taken our city in the wrong direction," he said. "I know that Joliet can change its course and as mayor, my training will help Joliet forge a new path that benefits all residents."
O'Dekirik, who is a managing partner in a downtown Joliet law firm, said he will continue to work as a lawyer overseeing the firm while working as mayor if elected.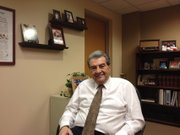 Giarrante questioned whether O'Dekirk would be able to juggle both jobs. As mayor, Giarrante said he puts in a lot of hours.
O'Dekirk was critical of Giarrante's administration, and the mayor's "policies of tax and spend. The time for false promises and short-sightedness has past," O'Dekirk said. "It is imperative that Joliet do everything possible not only to promote development, but also to foster the creation of new careers that can sustain our city's families."
He pointed to last year's plans by Giarrante's administration to bring a for-profit prison to Joliet as one example of the mayor lacking in vision. That plan met with strong opposition from many Joliet residents and the company eventually opted to look somewhere else to build the prison.
O'Dekirk also was critical of the mayor for raising taxes to generate revenue for the city.
Giarrante later defended the move to initiate a telecommunications tax and an increase in the sales tax, and said those increases brought $8 million into the city's coffers during a bad economy. Giarrante added that while O'Dekirk is now being critical of those taxes, at the time he had no better ideas for raising needed revenues for Joliet.
"If you don't agree, than come up with another plan," Giarrante said.
Giarrante also defended what his administration has done in terms of moving the city forward with the new multi-modal regional transportation center for the downtown and developments at the CenterPoint intermodal industrial park.
Giarrante said it seemed a bit early for someone to announce they will be running for mayor when the election is more than a year away, but added that he was not surprised, because lately "certain members of the council have been playing politics."
The mayor, however, added that anyone has the right to run for any office. "If you think you can do a better job, put your name on the ballot," he said.
Rex Robinson can be reached at rex@thetimesweekly.com.