Children's dental health month
1/29/2014, 2:05 p.m.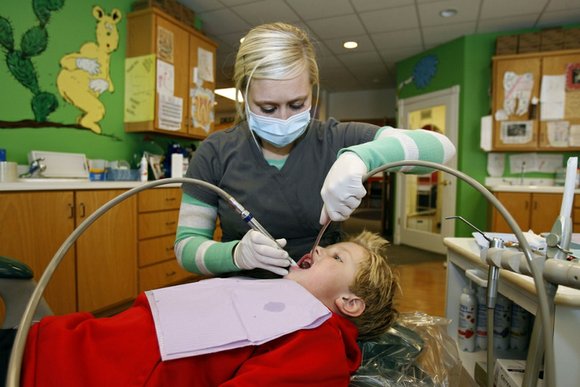 During her 13 years at the Will County Community Health Center (1106 Neal Avenue in Joliet), Dr. Sangita Garg, Community Health Center Dental Director says she has extracted countless broken, abscessed and unrestorable teeth."
"Every time I extract a tooth, it reminds me of the day when I had a permanent molar extracted as a teenager. It was an unpleasant and painful experience, but it inspired me to become a dentist and fight against tooth loss."
There are several reasons why children and adults can lose their teeth. Most commonly, it is a combination of poor oral hygiene, dietary habits and missing routine dental appointments.
"Unfortunately, putting off dental treatment only makes the problem worse and ultimately leads to more aggressive dental procedures. In reality, your teeth are more important to your overall health than you might think, Garg said.
Tooth loss is completely preventable. Early intervention for prevention is the key.
Some parents may feel that caring for baby teeth is not crucial because baby teeth are designed to fall out anyway. However, baby teeth are very important since they reserve spaces in gum tissue for future adult teeth. They also allow children to chew food and speak properly.
Children should visit the dentist at least once during the first year of life. And, parents should help children brush and floss.
Children should never go to sleep with a bottle of milk or sugary fluids. Ask your dentist whether sealants may be right for your child.
Please join me in celebrating National Dental Health Month during February. This annual celebration is designed to create awareness and help to improve oral health.
Many exciting activities are planned during February at the Community Health Center: the dental staff is scheduled to visit local schools for dental presentations and education.


Dental education videos are scheduled to be played in the patient waiting area.

As a part of the Health Center's community outreach program in February, dental providers will perform free dental screening for children in the pediatric clinic area.

Children from 5 to 10 years of age will participate in a dental page coloring contest.


Will County's mobile dental van will continue to visit nearby schools and homeless shelters.
The Will County Community Health Center Dental Program says thank you for helping us prevent dental disease.