Goodman Theatre
LUNA GALE finds human heart in faceless child welfare system
1/29/2014, 3:26 p.m.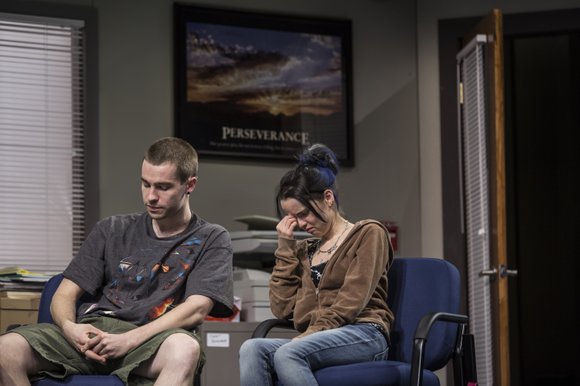 Goodman Theatre's current production through February 23 of Rebecca Gilman's LUNA GALE begins with the frustrated whimpering of a young mother, freaked out on crystal meth, trying desperately to wrest custody of her infant daughter from the entanglements of the child social welfare system. The play quickly escalates into a powerful message that probes deep into a complex, impersonal beaurocracy, to explore the complex issues of morality, social responsibility and personal commitment that are at its heart.
Pulitzer Prize finalist (2002-The Glory of Living-produced at Circle Theatre) Rebecca Gilman is a Goodman veteran playwright with seven productions under her belt, including six world premieres and five Goodman commissions, making her one of the most produced contemporary playwrights in the theatre's history. This is her fourth collaboration with Goodman Theatre Artistic Director Robert Falls and one of their best.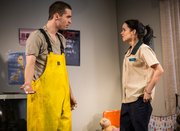 At the heart of the play is the struggle of the drug-addicted parents of the baby, Luna Gale, Karlie (played by Reyna de Courcy in her Goodman and Chicago debut) and Peter (played by Colin Sphar, who returns to Goodman after understudying last season's Teddy Ferrara) from whom the play derives its name, to retain custody in a system that deems them unfit parents. While the fate of baby Luna hangs in the balance, the ultimate responsibility falls into the hands of an overworked social worker, Caroline, played with layered emotion by Goodman veteran Mary Beth Fisher (God of Carnage 2010/2011 season, Marvin's Room-1993 in her Goodman Theatre debut).
Faced with draconian rules, superiors more concerned with personal gain than doing what is right, and a caseload doubled due to budget cuts, Caroline has the unenviable position of deciding baby Luna's fate.
What had seemed a safe option, placing the baby with the maternal grandmother, suddenly turns out not to be such a good idea. Karlie's divorced mother, Cindy (Jordan Baker in her Goodman debut), is as spaced out on her fundamentalist religious beliefs as is her daughter is on crystal meth. Cindy is enthralled with her pastor Jay (Richard Thieriot in his Goodman debut) a committed Christian, who we later learn is in cahoots with Caroline's child welfare agency boss, Cliff (a smarmy Erik Kellman, also in his Goodman debut).
Intensity builds as Caroline finds herself increasingly frustrated in her efforts to find a proper home for Luna. She is alternately losing her grip on her young parents, who make faltering efforts at rehabilitation and finds herself between a rock and a hard place with her rule reading and Bible thumping bosses. Further complicating things is the case of Lourdes (in a lightning rod portrayal by Melissa Duprey in her Goodman debut). Out of foster care and entering an adult world for which she is ill prepared, Lourdes reaches out to Caroline in a moment of crisis, only to once again be left in the lurch.
Set design by Todd Rosenthal and Lighting Design by Robert Wierzel establish the bleak, emotionally barren backdrop of the play, which is set in Cedar Rapids, Iowa. Music and Sound Design by Richard Woodbury further underscore the sparse landscape.
For anyone who has had contact with the child welfare service system, or who has read news reports of the troubling cases of children whose lives have fallen through the cracks, this is a disturbing play. The awesome responsibility placed on the shoulders of social workers like Caroline, who fight both inside and outside the system to effectuate change, is clearly outlined in this all-too-human drama. The play LUNA GALE is a tribute to the tireless work of these dedicated social servants and the lives they fought so valiantly to rescue in an impersonal system.
LUNA GALE runs at the Goodman through February 23. For information, visit goodmantheatre.org