Snow removal budget balancing act
Fighting Old Man Winter costly for communities this year
Rex Robinson | 1/29/2014, 5:14 p.m. | Updated on 1/31/2014, 11:21 a.m.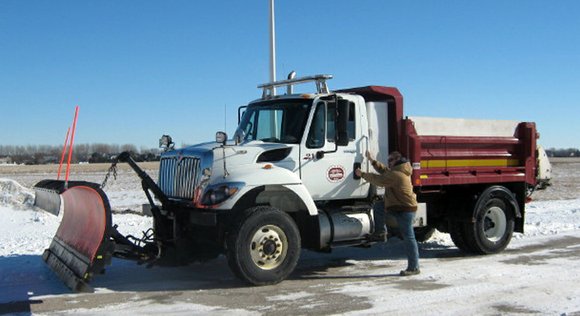 Like the snow this winter season, overtime budgets for salt and snow removal for area communities continues to pile up.
Officials from municipalities are finding out more than ever this winter that budgeting for Mother Nature is a crapshoot.
"It's like throwing a dart," Shorewood Public Works Director Chris Drey said.
Shorewood village officials budgeted $50,000 for overtime for snow plowing and already have spent $89,000, according to Drey.
"It's been almost non-stop with the snow and the cold," Drey said. "Our winter work consists of either trimming trees or plowing streets and we've had to push back the trimming of trees."
Snow amounts far exceeding averages
As of this past Monday, Joliet has measured a total snowfall for the season of 38 inches and, according to the National Weather Service, an average winter snowfall total for a Chicago season is 28.4 inches.
"There's a pretty good chance that we'll exceed our budget for the 2014 cycle," Joliet Public Works Director Jim Trizna said.
As an example of how this winter has taken its toll on area municipalities, Joliet uses about 12,000 tons of salt on any given year and this winter season, which is far from over, the city has already used 12,429 tons of salt at a cost of $720,342, according to Trizna. Overtime costs for snow plow drivers thus far for Joliet totals $524,410.
Joliet's budget cycle runs from Jan. 1 through Dec. 31. Trizna said the budget for snow removal and salt for 2013 was within budget. It's next year, he added, where the street department will more than likely exceed the budget.
The city budgeted $483,250 in overtime costs for snow plow drivers for 2014 and already has doled out $329,767. It is unlikely, given that this winter is not over and that the amount budgeted also is expected to cover the first part of the next winter season, that the remaining balance will be enough to carry the department through until the end of the fiscal year.
New Lenox increases snow removal budget
The village of New Lenox has already exceeded its budget for snow removal and salt this year and just this past Monday had to amend the budget. Initially, the village had earmarked $214,000 for snow removal and salt, according to Kim Auchstetter, the village's finance director and treasurer. The village board voted to increase the total amount to $264,000.
The village fell below the $200,000 mark for snow removal and salt in both 2013 and 2012. Last year, New Lenox spent $155,646 on snow removal and salt and in 2012 spent $195,765, Auchstetter said.
As of Jan. 19 (the latest figures available), Lockport has spent $93,000 for overtime for snow plow drivers this winter, and only $20,000 on salt. The city budgeted $147,000 for overtime for the drivers and $235,000 for salt. The salt expense is low because the city has been stockpiling salt from previous years, according to city Administrator Ben Benson.
Lockport, Plainfield in 'good shape' In terms of the overtime, Benson expects the city to "reach, if not exceed, the budgeted amount."