Wine of the Week: La Fiorita Brunello Di Montalcino Riserva 2006
1/29/2014, 5:16 p.m.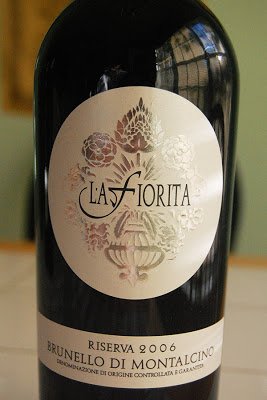 I fell in love with this wine as soon as I opened it. I decanted it and spent several hours figuring out what foods I would pair it with. I settled on a grilled steak, smoked with apple wood, classic sautéed garlic spinach and asparagus grilled with an olive oil and fresh thyme glaze. Finishing with a modified Banana's Foster (bananas sautéed in butter and a flambé' using the wine and finishing it with a chocolate sauce instead of the traditional caramel glaze on yellow pound cake "fingers." It was an exquisite dining experience. Made from the flagship Sangiovese grape from the small hillside village of Montalcino in southern Tuscany, the wine is highly expressive and loaded with complex flavors that reveal themselves like a well-faceted diamond in various kinds of light. Because it is aged in small oak barrels, rather than the traditional large oak casks, it displays layers of aromas and flavors that include lush, ripe red and black berries, overtones of vanilla, baking spices and back notes of crushed thyme and sorrel, tobacco and cedar, and even some darker fruits and candied fruits, even a hint of cardamom that makes for a vibrant Arabian nights finish. This is a wine that speaks to the land or "terroir" and is one of the most perfect examples of a single vineyard Brunello that takes it expression to a higher level. It lists at $57 for the bottle, but there are deals to be had at some local wine purveyors. It's available now and well worth the search and a steal at any price!