Ready Set Ride Fun Run 5k registration under way
Brock A. Stein | 7/1/2014, 4:31 p.m.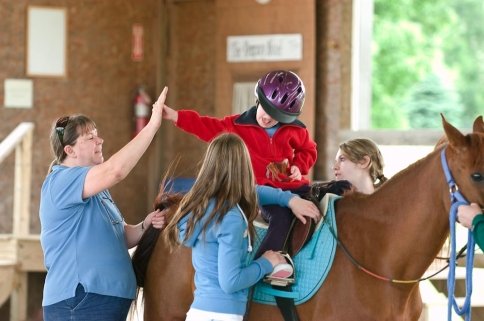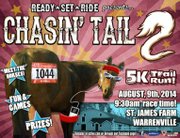 Plainfield mom Lesley Caramusa saw the enthusiasm her son felt after his first day of volunteering with Ready Set Ride in Plainfield.
The nonprofit organization, which offers therapeutic horseback riding for special needs children and those with terminal illnesses, thrives on the support and work of volunteers and so the mother of three decided to pay a visit to the 13056 Essington Road location.
"Because I wanted to see what he was doing," said Caramusa, who works for a direct mailing company in Bolingbrook.
She expected to find her son, who has Asperger's syndrome, cleaning out stalls, but saw something that inspired her to become a volunteer herself.
"There's my son walking a horse with a little girl who went from a wheelchair to a horse," she recalled. "I was absolutely filled with tears."
And it's why she is dedicated to spreading the word about the group's second-annual fundraiser, the Chasin' Tail 5k Fun Run on Aug. 9, proceeds from which will help fund the year round care of the horses and facilities.
Ready Set Ride employs certified therapeutic instructors who use methods based on physical, speech, occupational, developmental and recreational therapy techniques, according to its Web site.
The program can help with a range of conditions, said Caramusa, helping with core strengthening, coordination and balance in kids who are wheelchair bound. For kids going from a wheelchair to a horse, she said, it gives "the sensation that they're walking.
Caramusa said she had driven past the Ready Set Ride stables hundreds of times during her 12 years of living in Plainfield, but had never stepped inside or knew the work the nonprofit has done since its founding in 2001.
She got involved soon seeing the volunteer work her son was doing and the positive impact it had on him. She said he now volunteers there three to four days each week.
"So I vowed to do whatever I could to help them," Caramusa said. "I wanted to raise as much money and awareness as I could for them."
The organization holds sessions in the spring, summer and fall, but but volunteers and donations are needed for the rest of the year to care for the horses and maintain the facilities.
Upkeep has been especially challenging in the past few years with excessive rain, drought and bitter winter temperatures taking their toll on pipes and other infrastructure at the site.
The Chasin' Tail fundraiser 5K will be held at 9:30 a.m. Aug. 9 at the St. James Farm Forest Preserve in Warrenville. The cost to participate is $40, and there will be games, prizes and other activities held as part of the event.
To sign up for the race or to learn more about Ready Set Ride and volunteer opportunities, go to www.readysetride.org.
Contact Brock A. Stein at bralst1@gmail.com and follow him on Twitter at @BrockAStein.. .