Grilled Salmon and Grapefruit Salad
7/9/2014, 12:01 p.m.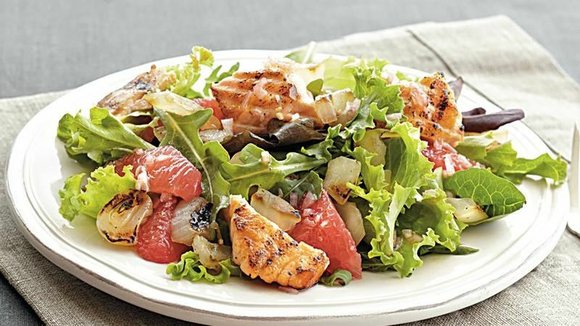 SERVINGS: 4
Ingredients
1/3 cup blood orange or orange juice
1 tablespoon chopped shallots
2 tablespoons honey
1 tablespoon olive oil
1 teaspoon Dijon mustard
1/8 teaspoon salt
1/8 teaspoon freshly ground pepper
¾ lb salmon fillet (1 to 1 1/4 inches thick)
½ teaspoon salt
¼ teaspoon freshly ground pepper
Cooking spray
1 large sweet onion, cut into 1/2-inch-thick slices
8 cups mixed baby salad greens
1 jar (24 oz) red grapefruit sections, drained
Directions
Heat gas or charcoal grill. In small bowl, stir orange juice, shallots, honey, oil, mustard, 1/8 teaspoon salt and 1/8 teaspoon pepper with whisk until well blended; set aside.

Sprinkle salmon with 1/2 teaspoon salt and 1/4 teaspoon pepper. Carefully brush oil on grill rack. Spray salmon and onion slices with cooking spray. Place salmon and onion on grill over medium heat. Cover grill; cook 10 minutes, turning once, until fish flakes easily with fork and onion is tender. Remove skin from fish.

Cut onion into bite-size chunks; break fish into chunks. Divide salad greens among serving plates; top with grapefruit sections, onion and fish. Drizzle with vinaigrette.