2014 Lexus GX 460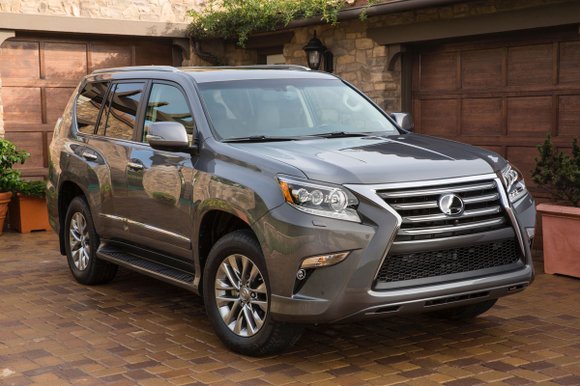 The Lexus GX 460 pulls double duty as a luxurious on-road sport utility with full off road capability. Almost as big as a full-size sport utility, the test vehicle was equipped with three rows of seats.
The third row would power fold away creating a flat-floored cargo space while the second row seats were both heated and cooled. So were the front seats. The maximum cargo space in the sport-utility was 64.7 cu. ft.
For 2014, the GX 460 received the Lexus spindle grille, an eight-inch touch screen display screen with real time traffic and weather, full-time four-wheel-drive with center differential and a bunch of off-road chassis control systems. The on-road performance was impressive.
Powered by a 4.6-liter V8 that made 301 horsepower and 328 pound-feet of torque at 3,500 rpm, the 2014 had some pep. But at 5,340 lbs. it wasn't creating a bunch of G-force. Still, the SUV had a good bit of towing power, the maximum being 6,500 lbs.
Even though the Lexus GX 460 featured body on frame construction, there wasn't a lot of body roll when turning. Lexus said that was because of its standard "Kinetic Dynamic Suspension System" that omitted the need for stiffer springs and dampers.
On road features also included ride selection of normal, sport or comfort with an adaptable variable suspension system that electronically controlled the dampers. For this test drive, the vehicle stayed in normal most of the time.
One thing was missing; a lane change signal. When driving more than two and a half tons of vehicle, the more attention focused on the road and the less on the turn signal the better.
We didn't get the chance to go sloshing through the woods with the 2014 Lexus GX 460 but it came ready for the task. Its full-time all-wheel-drive system distributed power 40-60 to the rear wheels during normal driving conditions but it could change the ratio based on wheel slippage.
It had a low range for off road driving and the center differential could be electronically locked. That was supplemented with the optional crawl control, downhill assist control; active traction control provided the traction benefits of having locking front and rear differentials, and vehicle stability control.
For serious off-roading, a steering angle indicator in the instrument gauge panel showed the driver which direction the front wheels were pointing, which as any off-roader knows is useful for situations where this can be difficult to discern.
Through curves the system could change the torque split to 30-70 rear wheel biased and it could set distribute torque 50-50 to help control slippage. All of that was done automatically depending on the grip of the wheels.
The 2014 Lexus GX 460 Luxury had creature comforts galore including a 17-speaker 330 watt Mark Levinson sound system. There was a backup camera with cross traffic alert and intuitive parking assist, satellite radio, a smart key, power reclining second row seats, a heated mahogany steering wheel, LED headlights and more.
It had so many features wrapped in an elegant package that $62,770 as tested for the 2014 Lexus GX 460 seemed reasonable.
Frank S. Washington is editor of AboutThatCar.com