Southwestern Grilled Pork Chops with Peach Salsa
7/20/2014, 10:51 p.m.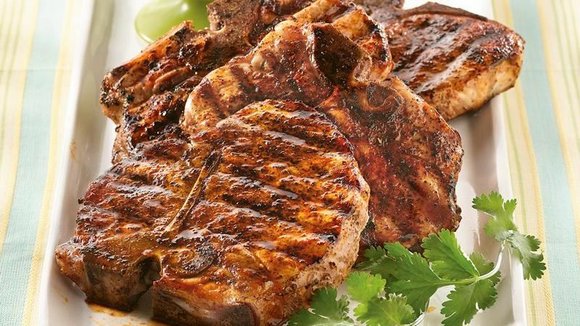 SERVINGS: 4
Ingredients
3 ripe medium peaches, peeled, chopped (about 1 1/2 cups)
¼ cup finely chopped red bell pepper
2 tablespoons finely chopped red onion
1 tablespoon chopped fresh cilantro
2 teaspoons packed brown sugar
2 teaspoons fresh lime juice
¼ teaspoon finely chopped serrano or jalapeño chile
1 tablespoon chili powder
4 bone-in pork loin chops, 1/2 inch thick (4 oz each)
Directions
Heat gas or charcoal grill. In medium bowl, mix peaches, bell pepper, onion, cilantro, brown sugar, lime juice and chile; set aside.

Rub chili powder on both sides of each pork chop. Place pork on grill over medium heat. Cover grill; cook 6 to 9 minutes, turning once, until pork is no longer pink in center. Serve pork chops topped with salsa, or serve salsa on the side.