Despondent man drives car into stranger's vehicle, police say
Karen Sorensen | 7/23/2014, 5:36 p.m.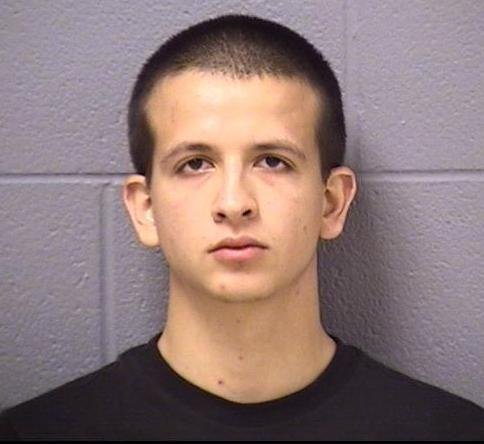 A Joliet man, reportedly despondent after learning his girlfriend had gone on a date with a former flame, rammed the car of a stranger in attempt to commit suicide, Joliet Police Cmdr. Al Roechner said.
When the stranger chased Alex Palomar, 21, after the collision, Palomar struck the man's car again, leaving both vehicles inoperable, Roechner said.
The chain of events started at 11:30 p.m. Tuesday outside Palomar's 3302 Traymore home, when Palomar asked to see his girlfriend's cellphone and discovered she had gone to the movies with a former boyfriend, he said.
Palomar reportedly threw her phone to the ground and attacked the woman, pushing her into a wall and holding his arm against her neck and then pushing her down and slapping her, Roechner said. As he headed to his car to leave, he broke the mirror on the girlfriend's car, he said.
Palomar then drove to the woman's Bolingbrook home near Weber Road and 119th Street and drove into her car when she arrived, Roechner said. As he fled the scene, he deliberately struck another vehicle in an attempt to injure himself and, when unsuccessful, drove away, he said.
The man whose car he struck followed him as he got on to Interstate 55 and then exited at U.S. 30/Plainfield Road, where Palomar struck his vehicle again, Roechner said.
Police arrived at about 12:30 p.m. to find the victim's car disabled in a northbound lane of Plainfield Road and Palomar's undrivable vehicle in a southbound lane, he said.
Palomar has been charged with two counts of knowingly damaging property and one count each of reckless driving, domestic battery, operating an uninsured vehicle and improper lane usage for all of the incidents that occurred in Joliet, Roechner said. He will likely be charged by Bolingbrook for the incidents that occurred there, he said.
Palomar is being held in the Will County jail pending a bond hearing.
Contact Karen Sorensen at Karen@TheTimesWeekly.com.