Flyers Find Pearl For New Coach
7/23/2014, 3 p.m.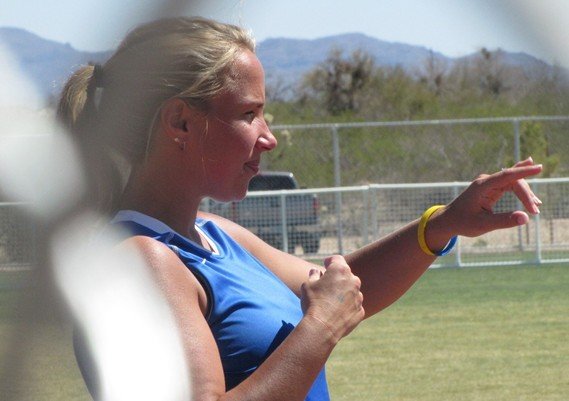 Lewis University Director of Athletics Dr. John Planek has hired Becky (Stenning) Pearl as the fifth head softball coach in Flyer history. "I am so excited for this opportunity," Pearl said. "Lewis has a great tradition of excellence both on and off the field, and I feel blessed to have this opportunity. I'm looking forward to meeting the team and starting this new chapter of my life."
Pearl, who has served as the Judson University head softball coach since 2004, takes over for George DiMatteo, who announced his retirement following the 2014 campaign. "Coach Pearl will be a great addition to the Lewis coaching staff," Planek said. "Her head coaching experience, knowing the Chicagoland recruiting landscape and her pitching expertise really gives her a strong foundation to lead the Flyer program.
"You can't replace Coach DiMatteo and all that he meant to the softball program and Lewis University for over 30 years, but Coach Pearl will continue on this path of excellence that has been forged."
In 10 seasons, Pearl set a school-record with over 250 victories and helped Judson advance to the National Christian College Athletic Association (NCCAA) Tournament six times, with three third-place finishes. In 2011, Pearl guided the Eagles to their first-ever Chicagoland Collegiate Athletic Conference (CCAC) championship and was named the CCAC Coach of the Year for her efforts. That year, she was awarded the first of her three NCCAA Regional Coach of the Year awards, including being honored as the National Fastpitch Coaches Association (NFCA) Regional Coach of the Year.
The Eagles had a plethora of individual success under Pearl, as she coached 32 NCCAA All-Region players, 27 CCAC All-Conference players, 21 NCCAA All-American players, six NCCAA All-Tournament players, three NFCA All-Region players, two CCAC Freshmen of the Year and two NAIA All-Region selections. Most recently, Pearl coached the 2014 North Central Region Player and Pitcher of the Year.
Pearl's players are traditionally excellent in the classroom. During her tenure, Pearl has coached 15 NCCAA Academic All-Americans, 10 NAIA Scholar-Athletes, five NFCA All-Academic Teams, four NAIA Scholar Team Award winners and one College Sports Information Directors of America (CoSIDA) Academic All-American.
Prior to her arrival in Elgin, Pearl spent seven years at Illinois Wesleyan both as a player (1998-2001) and as an assistant coach (2001-04). In those seven seasons, the Titans won 242 games, went to four NCAA Division III National Tournaments, won six College Conference of Illinois and Wisconsin (CCIW) Championships, one NCAA Regional Championship and finished third in the nation in 2003. Pearl was a member of the IWU staff that was named the 2003 CCIW Coaching Staff of the Year.
Pearl's first official day is Monday, August 4th.