Grilled Halibut with Chipotle Butter
7/23/2014, 12:51 p.m.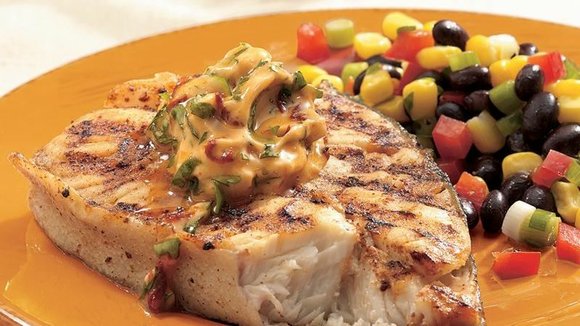 SERVINGS: 4
Ingredients
¼ cup butter, softened
1 canned chipotle chile in adobo sauce, chopped
1 teaspoon adobo sauce (from can of chipotle chiles)
1 teaspoon lime juice
2 tablespoons chopped fresh cilantro
1 tablespoon olive oil
1 teaspoon chili powder
½ teaspoon garlic salt
½ teaspoon ground cumin
4 halibut steaks (6 oz each)
Directions
Heat gas or charcoal grill. In small bowl, mix butter, chile, adobo sauce, lime juice and cilantro. Refrigerate until serving time.

In another small bowl, mix oil, chili powder, garlic salt and cumin. Brush both sides of each halibut steak with oil mixture.

Place halibut on grill over medium heat. Cover grill; cook 10 to 15 minutes, turning once or twice, until fish flakes easily with fork. Serve halibut topped with butter mixture.